Apple does not break out sales of the Apple Watch like it does for the iPhone, iPad, and Mac, but according to Apple CEO Tim Cook, the Apple Watch set all time unit and revenue records during the first fiscal quarter of 2017, suggesting significant sales during the holidays.
Cook said holiday demand was "so strong" that Apple "couldn't make enough." He went on to say the company is thrilled with the response its seen to the wearable device.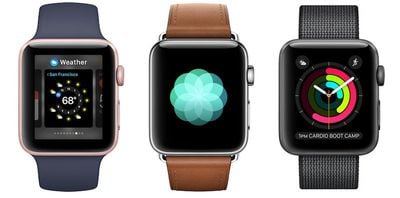 While the Apple Watch set an all time revenue record, that's not reflected in Apple's "Other" products category, which was down eight percent year over year.
"Other," which includes the Apple TV, Apple Watch, Beats products, the iPod, and Apple-branded and third-party accessories (including the new AirPods), brought in $4.02 billion, down from $4.35 billion in the year-ago quarter.
It's not clear what was responsible for the drop if Apple Watch sales are up, but slower Beats and Apple TV sales could be one explanation.
Apple also set revenue records for the iPhone and Mac, along with its Services category.
Update: Apple CFO Luca Maestri told the Financial Times that Apple TV sales were down year over year, better explaining the revenue drop in the "Other" category despite surging Apple Watch sales.