Samsung Gear
By MacRumors Staff
Samsung Gear Articles
Fresh leaks of the upcoming Samsung Galaxy S8 have revealed that the de facto "iPhone 8" rival will come in three colors and cost upwards of 799 euros ($859) when it goes on sale next month in Europe. Serial mobile leaker Evan Blass revealed the news in a Sunday tweet, which included an official press image of Samsung's new flagship phone in colors described as Black Sky, Orchid Grey, and...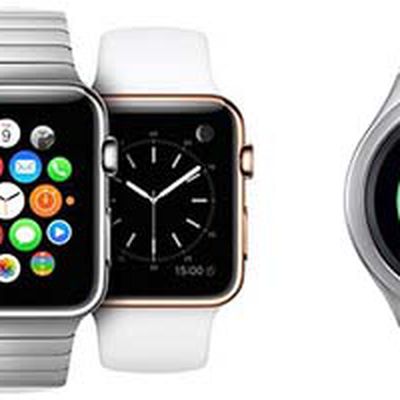 Apple shipped a record-breaking 5.2 million Apple Watch units last quarter, making it by far the most popular smartwatch of the holiday shopping season, according to the latest data from research firm Strategy Analytics. Apple captured an estimated 63.4% of the worldwide smartwatch market during the quarter. Apple's closest competitor Samsung shipped only 800,000 smartwatches in the quarter, ...

Samsung today announced the first iOS apps for its popular Gear family of smartwatches, which were previously only compatible with Android phones. The Samsung Gear S app brings iPhone connectivity to the company's Gear 2 and Gear 3 wearables, while the Gear Fit app offers similar compatibility for Gear Fit2 watches. The apps allow device owners to monitor features and manage applications...