Seven Years Ago Today: Steve Jobs Introduces the iPad
After teasing fans to "come see our latest creation" in the weeks leading up to one of its famous media events, seven years ago today former Apple CEO Steve Jobs unveiled the first-generation iPad to the world. The iPad was announced as a larger-screen counterpart to the company's three-years-old iPhone, with Scott Forstall pointing out during the conference that the tablet could run "virtually every" iPhone app thanks to an on-screen button that users could press to scale the app's resolution up and down on a whim.
The original iPad launched with a 9.7-inch 1024 x 768 resolution touch screen, in 16GB, 32GB, and 64GB capacities. The 1.5lb tablet included Apple's A4 chip and was priced at $499, $599, and $699 for Wi-Fi only models, and $629, $729, and $829 for Wi-Fi + 3G models in each respective capacity. The Wi-Fi version debuted on April 3, 2010, while users interested in Wi-Fi and 3G had to wait until April 30 for Apple's new tablet.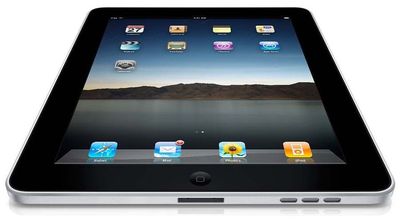 Steve Jobs on the iPad:

"iPad is our most advanced technology in a magical and revolutionary device at an unbelievable price," said Steve Jobs, Apple's CEO. "iPad creates and defines an entirely new category of devices that will connect users with their apps and content in a much more intimate, intuitive and fun way than ever before."
After the event in 2010, initial reactions to the iPad were largely positive, with sites like Engadget calling it "blazingly fast" and remarking that the tablet had no lag when hopping around its various apps. The screen was thought to be "stunning" and the iPad's iBooks application impressed, thanks to its flipping page animations and library-inspired bookshelf space for eBooks that upheld Apple's then popular skeuomorphic iOS design.
The original iPad's largest drawback centered on its substantial 1.5lb weight, as well as the lack of Flash in its operating system, no multitasking, and no camera. Seven years later, Apple has iterated on its original design and addressed most of these user complaints with each update to the iPad.
The current 12.9-inch iPad Pro weighs about the same as the original iPad at 1.57lbs, and still runs a larger version of iOS, but it's thinner (6.9mm vs 13mm) and is the "most capable and powerful" iPad yet, according to Apple, putting it on par with desktop-class machines.
While the iPad saw strong early adoption, Apple has experienced sales declines in the past few years, with users replacing their iPads less frequently than iPhones. Most commonly, users update their iPhones every year or two, while finding their iPads remain serviceable for longer.
In the company's annual earnings report last October focusing on the fourth fiscal quarter of 2016, iPad sales were down slightly to 9.3 million from 9.9 million in the same year-ago quarter. Although they were also infamously down in sales in 2016, Apple still sold 45.5 million iPhones in the same quarter, down from 48 million in the fourth quarter of 2015.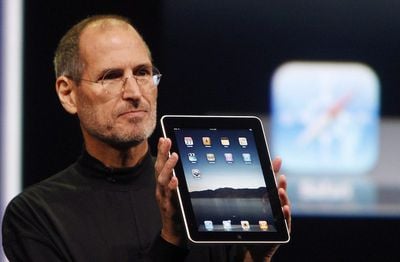 New iPads are consistently part of the Apple rumor cycle, and 2017 has been no different, with current reports pointing towards the launch of three new iPad Pro models sometime during the calendar year. Apple is believed to put out a new 9.7-inch and 12.9-inch iPad, but the exact screen size of a mysterious middle size model has been up for debate, including 10.1, 10.5, and 10.9-inches.
When it launches, the new 10-inch model may look very different from the 2010 iPad, reportedly doing away with the iconic Home Button, further reducing the size of the tablet's bezels with an edge-to-edge display, and include the usual iterative bumps to camera resolution and speed. One of the ports that the 2017 iPad is rumored to keep intact from its seven-year-old progenitor is the 3.5mm headphone jack, which the iPhone 7 ditched last year.
The full press conference covering Steve Jobs' introduction of the iPad can be viewed on YouTube here.