Apple Tablet Media Event Today: 'Come See Our Latest Creation'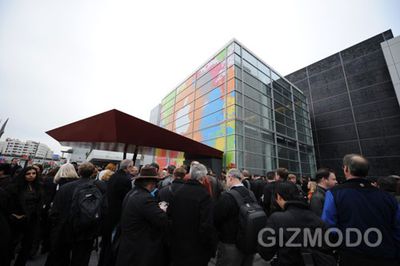 Apple is holding its media event today and is expected to introduce their much anticipated tablet device. We will provide links to live coverage of the event and provide bulleted updates. The event kicks off at 10 am Pacific or 1 pm Eastern. Apple does not provide a live video or audio stream to their events, so you can only follow along live with text and photo updates. Apple will post a QuickTime video a few hours after the event.
Live Web/Twitter Coverage
- Gizmodo
- Engadget
- Ars Technica
- gdgt
- MacRumors Twitter
- Spoiler Free notification page
Recent News and Rumors
- Photos of Apple Tablet Back Shell Leaked?
- Apple's Focus on Content and Possible eBook Pricing
- Last Minute Leaked Photos of the Apple Tablet?
- McGraw-Hill CEO Confirms Apple Tablet, iPhone OS Based, Going to Be "Terrific"
- Apple Tablet Rumor Roundup
Event Updates
- Disney Chairman and CEO Bob Iger is present, possibly suggesting a content deal of some sort with Apple to be announced.
- Steve Jobs on stage, sharing stats: 250 million iPods sold; 284 retail stores, with over 50 million visitors last quarter; 3 billion App Store downloads, over 140,000 apps available.
- Apple is a mobile device company. By revenue, Apple is the largest mobile device company in the world.
- Now for the main event: Reviews 1991 PowerBook introduction and iPhone. Is there something in between that could be better at browsing, e-mail, photos, video, music, games, eBooks? Netbooks? Nope...just small, cheap laptops.
- Introduces "iPad"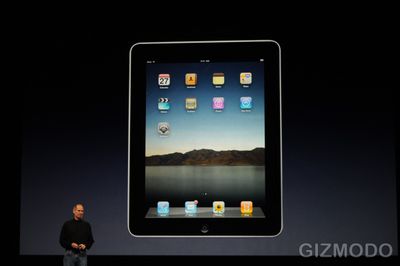 - Built-in browser, mail, photos, calendar, maps, etc. iTunes Store included right on iPad. YouTube access.
- So much more intimate than a laptop. So much more capable than a smartphone.
- Music player is a hybrid between iPhone and regular iTunes.
- Showing off browsing: Apple, New York Times, Time, Fandango. One article appears to show plug-in error...no Flash?
- E-mail: Showing off message reading and creation. Direct PDF viewing.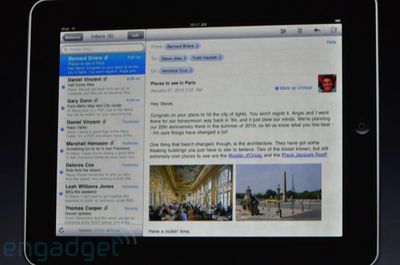 - Showing off photos: Can utilize Events, Places, and Faces functionality by syncing from iPhoto.
- iTunes: expansive interface, album art, etc.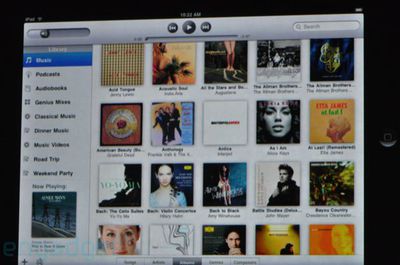 - Showing off Calendar and Maps applications. Maps includes Street View...everything reportedly very snappy.
- Showing off video capabilities via YouTube. Also movies, TV...showing clips from Star Trek and Up.
- Back to the hardware. 0.5" thin, 1.5 pounds, 9.7" IPS display, full multi-touch.
- 1 GHz "Apple A4 chip", 16, 32, or 64 GB flash storage, 802.11n, Bluetooth, accelerometer, compass, speaker, mic. 10 hours battery life. One month of standby battery.
- Now App Store...third-party apps. Scott Forstall on stage.
- Can run existing apps in a small box in center of screen or can pixel double to run full screen. Demoing. Showing off Facebook and ESPN snowcross game.
- Apple has also modified iPhone SDK to allow third-developers to rewrite for the large display as Apple has done with its own apps.
- App Store available on iPad and will feature both iPad-only and iPhone apps. Gameloft now on stage with a demo. Showing off Nova...iPad version coming later this year. Can interact with the game world on a whole new level.
- Now showing off New York Times. Martin Nisenholtz, NYT senior VP of digital operations on stage. Creating iPad-specific application.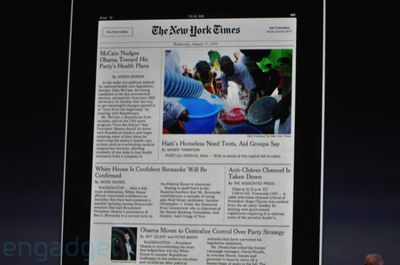 - Steve Sprang from Brushes. Briefly showing off painting application.
- Travis Boatman of Electronic Arts to talk about gaming. Showing off Need for Speed: Shift. Fully touch-enabled. "Like holding an HD display up to your face."
- Major League Baseball on stage. Utilizing screen space to show off stats, animations, video highlights, box score, scoreboards, etc.
- Steve Jobs back on stage. Showing off another one of our apps. Standing on Amazon's shoulders, we're going a bit further with "iBooks".
- E-books displayed on a bookshelf. Direct access to iBook Store to download new material. Major publishers on board, and we're opening the floodgates to others this afternoon. Demoing purchasing e-books.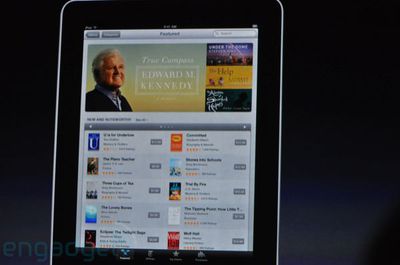 - Showing e-book navigation...tap right or left side of screen to flip pages, change font, text size, etc.
- Now talking about iWork. Talked to head of iWork team a year ago about creating iPad version, and they got it done. Introducing iWork on iPad.
- Phil Schiller on stage talking about iWork on iPad. Completely new versions of Keynote, Pages, Number. Now demoing Keynote...landscape orientation to accommodate slide views. Moving slides, resizing images, etc.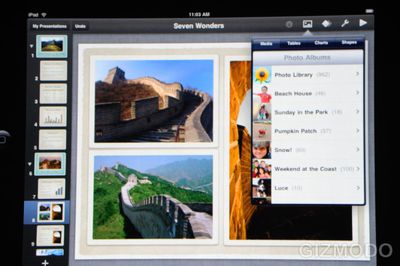 - Now showing Pages. Document gallery, scrolling, virtual keyboard, showing off auto text-wrapping.
- Demoing Numbers. Showing off how to move columns of data, adding rows, etc. Offers multiple keyboards...data-entry, text, date and time. etc.
- iWork for iPad apps priced at $9.99 each.
- Steve is back to show off iTunes. iPad syncs over USB, exactly like iPhone or iPod touch. When you sync, you sync everything.
- Wireless: iPad has Wi-Fi, also 3G. Two data plans available: 250 MB limit for $14.99/month; Unlimited for $29.99/month. AT&T to provide service. Free use of AT&T Wi-Fi hotspots.
- Activation directly through device. NO wireless contract needed. Cancel anytime.
- What about international? Hope to have deals in place by June or July. Hopefully June. All iPad models are unlocked and use new GSM micro SIMs.
- Steve is recapping the features of the iPad.
- Pricing: Starts at $499 for 16 GB, $599 for 32 GB, $699 for 64 GB. 3G-capable models are $130 more: $629/$729/$829.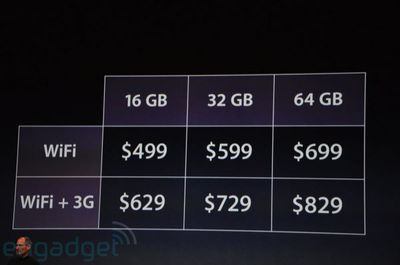 - Will begin shipping Wi-Fi models in 60 days, 3G models in 90 days.
- Also introducing dock stand, as well as a full-size mechanical keyboard dock stand.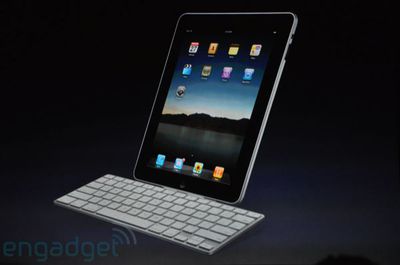 - Also a case that doubles as a stand. Showing highlight video with Jonathan Ive and others hyping the iPad.
- Notes from observers: No visible camera or mention of one; No mention of multi-tasking; No mention of any phone capabilities.
- Steve: "We think we've got the goods. We think we've got it." With over 75 million iPhones and iPod touches sold, we've got over 75 million people who already know how to use the iPad. Over 125 million iTunes accounts with over 12 billion products downloaded. We're ready for the iPad.
- Thanking attendees. Invited for hands-on.