Hands-On Impressions of Apple's New iPad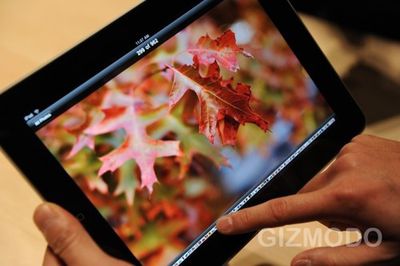 Engadget
and
Gizmodo
have both posted early hands-on impressions of Apple's new
iPad tablet
, having had the chance to play with the device after today's media event in San Francisco.
Both reviews rave about the iPad's speed, calling it "blazingly fast" with no lagging at any point. Responsiveness of the system and applications, as well as loading of web pages, is seen as excellent by those who have handled the device. The 1024 x 768 screen is also well-regarded in both reviews, described as "stunning" with the ability to show small text "crisply".
Reports on the feel of the device are mixed, however, with Engadget calling it "not light" and "pretty weighty" and Gizmodo calling it "substantial but surprisingly light". Notable drawbacks experienced in the few minutes of testing include the lack of Flash, multitasking, and camera. Also noted is the lack of "razor sharp" graphics for scaled up iPhone applications, although it seems to be a decent solution to allow Apple to offer immediate full-screen compatibility for existing iPhone applications.
iLounge is in the early stages of putting together an extensive "first look" feature, but has already shared pricing for a number of accessories, including the basic dock ($29), keyboard dock ($69), and case/stand ($39). They also note that while the iPad was fast, there was a bit of bugginess in their time with the device.

Hands-on from Gizmodo
From a gaming perspective, Joystiq similarly notes that the iPhone games "are scaled up and look like it", although the iPad does seem to allow for greater accelerometer sensitivity for iPhone games and also allows less of the screen to be obscured by the user's thumbs while gaming. Of particular note, Apple is planning to feature iPad games in a separate section of the App Store, leading to questions about whether users with both an iPad and iPhone/iPod touch will have to purchase two separate applications or whether developers will be able to find a way to "bundle" versions together for the two device sizes. In the absence of such a program, Joystiq wonders whether iPad users will opt to spend the money for the dedicated apps when their iPhone apps will be playable on the device.
Visit our new iPad forum for more discussion.