Apple Releases iPad Tablet, New SDK, iBooks and iWork Apps
At today's highly-anticipated media event, Apple
announced
the
iPad
tablet device, featuring a 9.7-inch, 1024 x 768 display and 16 GB, 32 GB, and 64 GB capacities. Carrying a custom 1 GHz "Apple A4" chip, the iPad weighs in at 1.5 pounds and is .5-inch thin. The iPad will be
priced
at $499, $599, and $699 for the varying capacity models without 3G, and $629, $729, and $829 with 3G. Wi-Fi only models are scheduled to ship in 60 days, with 3G-capable model shipping in 90 days. A
video preview
is also available.
In terms of standard connectivity, the iPad offers Wi-Fi (802.11n) and Bluetooth 2.1+EDR, with 3G models also offering cellular data connectivity. All iPad models have an accelerometer, compass, speakers, a microphone, and a 30-pin dock connector. The iPad also offers a claimed 10 hours of battery life for viewing video, with 1 month of standby battery life.
Models with 3G will be unlocked and will be able to use GSM micro SIMs. In the U.S., AT&T will offer two data plan options $14.99 for up to 250 MB per month and $29.99 per month for unlimited data. No contract is required for either option, and free access to AT&T's Wi-Fi hot spots is included. Data packages for iPad users outside of the U.S. will by in place by June.
The iPad will have standard apps for personal information management, including an address book and calendar, along with e-mail, Safari, Google Maps, and Notes. A special version of iTunes is also on board to provide an optimized browsing experience on the device's 9.7-inch screen.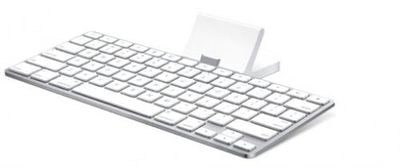 Accessories will also be available for the iPad, including a dock with a mechanical keyboard that will accommodate the iPad in portrait orientation and a case with a built-in stand for video viewing. Prices on these accessories were not announced. The iPad also supports Bluetooth keyboards.
Multiple demos showed unmodified iPhone apps working on the iPad at original resolution and scaled up to take advantage of the iPad's increased screen real estate. According to Scott Forstall during his time on stage, the iPad can run "virtually every" app without modification, with an on-screen button to scale an app's resolution up and down as desired. iPhone users will not need to re-purchase apps to load them onto an iPad.
The event was also rife with demos, showcasing Gameloft's N.O.V.A., an art app called Brushes, Electronic Art's Need for Speed Shift, and video within a Major League Baseball app.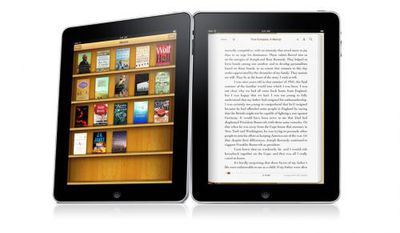 As expected from recent rumors about Apple's negotiations in the past few weeks with major media publications, the New York Times was on hand to demo a dedicated New York Times app, stating they were proud to "pioneer the next generation of digital journalism." The app offers an expanded view of the paper's content with in-line video viewing and synchronization capability with the iPhone app.
Jobs then unveiled the iBooks app, referencing Amazon's Kindle and describing that they wanted to "stand on their shoulders and go a little further." The iBooks app has a store - the iBookstore - featuring content from Penguin, HarperCollins, Simon & Schuster, Macmillan, and Hachette Book Group. iBooks uses the open ePub standard and offers tables of contents and intuitive page navigation on the iPad, along with the ability to read in portrait and horizontal orientations using the built-in accelerometer. Jobs highlighted True Compass by Edward M. Kennedy, describing its $14.99 price tag in the iBooks store.
New iPad-specific versions of iWork applications also made an appearance at the event, with demos of Keynote, Pages, and Numbers by Phil Schiller on the iPad. Schiller pointed out specialized on-screen keyboards and drop-down menus to spotlight the ease of use of these apps on the iPad. The iWork apps will cost $9.99 each.
At the end of the event, Jobs described the iPad as the company's "most advanced technology in a magical and revolutionary device at an unbelievable price." He also pointed out that there are over 125 million iTunes accounts with credit cards and that using the iPad will be second-nature for the more than 75 million iPhone and iPod touch users.
Developers can access the new iPhone SDK 3.2 today, offering tools for developing iPad applications including guidelines, sample code, and a simulator application.