New iPads Might Not Launch Until Sometime in the Second Half of 2017
Apple's new line of iPad models might not launch "until the second half of 2017," according to sources in the upstream supply chain speaking with DigiTimes. The new 9.7-inch iPad is predicted to enter mass production sometime in Q1 2017, while the 10.5-inch and 12.9-inch iPad models will begin production in Q2 of this year. All of the new iPads are described as still being in the "planning" phase.
Although it was expected for Apple to announce and launch the new iPads during the Spring, the new report claims that "these tablets may not be announced or even released" until sometime in the second half of 2017. In December, "lower-than-expected" yield rates for the 10-nanometer manufacturing process was rumored to be a potential factor in a delayed launch for the new iPads.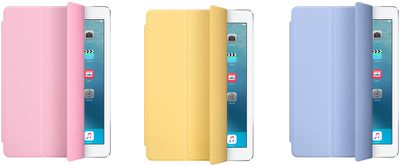 Apple reportedly is planning three new tablets for 2017, a 9.7-inch iPad with a friendly price range, a 10.5-inch iPad, and an upgraded 12.9-inch iPad Pro. The products are still in planning, with the 9.7-inch model expected to enter mass production in the first quarter, and the other two in the second, according to sources from the related upstream supply chain.

However, these tablets may not be announced or even released in the market until the second half of 2017, the sources said.
In DigiTimes' report, the sources mentioned a 10.5-inch iPad, which is a size that was recently well-explained by Studio Neat designer Dan Provost as a logical choice for the middle-tier iPad. While multiple rumors placed the new iPad -- believed to be an iPad Pro -- somewhere in the 10-inch range, everything from a 10.1-inch to a 10.9-inch model has been reported.
According to the supply chain sources, the 10.5-inch iPad Pro is a contender to replace the price tier of the existing 9.7-inch iPad Pro, while the new 9.7-inch version will be introduced at an even lower cost to become an entry-level device, "mainly targeting the education sector."
As previously reported, DigiTimes' sources today reiterated that the higher-end 10.5-inch and 12.9-inch iPad Pro models will include an A10X processor. No mention was made of the 9.7-inch model and its processor, but analyst Ming-Chi Kuo last year predicted that the "low-cost" iPad would likely adopt a lower-end A9X processor.
The 10.5-inch iPad Pro is being positioned as a flagship model of the iPad line, believed to feature an edge-to-edge display without a home button, but retain a small portion of the top bezel in order to provide space for the front-facing FaceTime camera.