Apple Seeds First Beta of iOS 10.3 With 'Find My AirPods' to Developers
Apple today seeded the first beta of an upcoming iOS 10.3 update to developers, marking the third major update to the iOS 10 operating system that was released in September. The first iOS 10.3 beta comes more than a month after the release of iOS 10.2.
Registered developers can download the new iOS 10.3 beta from the Apple Developer Center or over-the-air with the proper configuration profile installed.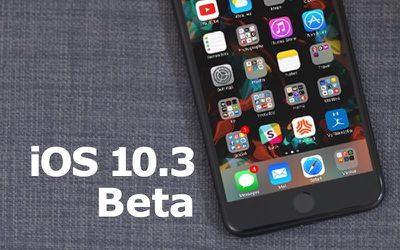 As a 10.x update, iOS 10.3 likely brings bug fixes, performance improvements, and new features to iOS 10. While we won't know what's in the update until developers begin discovering changes, it is rumored to include a new "Theatre" mode with a "popcorn-shaped" icon in the Control Center.
What the rumored Theatre mode does is unclear, but should it be included in iOS 10.3, we'll find out its purpose soon enough. We'll update this post with new features that are found in the update.
Update: Apple has shared release details with several sites, outlining features that are included in the update. While the main feature is a new "Find My AirPods" option, there are also several smaller updates.
What's new in iOS 10.3:
- There's a new "Find My AirPods" tool to help users locate lost AirPods.
- SiriKit can be used to pay bills, check on the status of payments, and schedule future rides.
- The weather icon in the Maps app includes 3D Touch to show hourly forecasts.
- CarPlay includes new shortcuts for launching recently used apps.
- CarPlay's Maps now features EV charging station locations.
- HomeKit supports programmable light switches.
- Conversation View in the Mail app features navigation improvements.
- When installing iOS 10.3, it will update the file system to Apple File System (APFS), so it's important to make a backup before updating.