Tim Cook Cashes in $3.6 Million in Stock as Respected Analyst Gives Him Passing Grades
Apple CEO Tim Cook sold 30,000 shares of Apple stock this week, valued at $3.6 million based on the company's stock price of $120 at the time of the transactions, according to a U.S. Securities and Exchanges Commission disclosure. The shares were sold as scheduled pursuant to Cook's predetermined trading plan.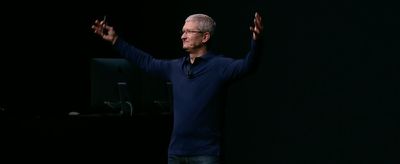 Cook retains 1,009,809 company shares worth over $121 million based on Apple's current stock price following the sale.
A recent SEC filing revealed Cook was paid $8.7 million in 2016, which is $1.5 million less than he was paid in 2015. The decrease stems from Apple failing to meet its own target performance goals for both net sales and operating income in 2016, resulting in senior executives receiving only 89.5% of their cash incentives.
However, upon reaching his fifth anniversary as Apple CEO last year, Cook cashed in nearly $137 million in previously-awarded stock bonuses tied to both his tenure and Apple's performance under his leadership. Accordingly, after bonuses, Cook actually earned roughly $145 million last year, his biggest payout yet.
Yesterday, Apple analyst Neil Cybart opined that Cook and his inner circle are "doing what needs to be done in order to maintain Apple's relevancy," but he noted "there is room for improvement." He called out sporadic Mac and iPad updates, and slow progress with Siri, as two blemishes among others in its product strategy.
In attempt to add a bit of relative context to this subjective grading:

• Product Strategy: A-
• Product Pipeline/R&D: A
• Operations: B-
• Marketing/Storytelling: C+
• Culture: B+
• Public Face: A+
• Financials: B
In related shareholder news, the world's largest asset manager BlackRock has increased its stake in Apple and now holds 6.1% of outstanding shares in the company, up from 5.7% a year ago. Its 322,683,504 shares are valued at over $38.7 billion based on Apple's current stock price.