Tim Cook's Pay Was $1.5 Million Less in 2016 as Apple Missed its Own Performance Targets
Apple's annual shareholders meeting will be held on February 28 at 9:00 a.m. Pacific Time in the Town Hall building at its Infinite Loop headquarters in Cupertino, California, according to an SEC document filed electronically today. Admission is open to all shareholders of record on a first come, first served basis.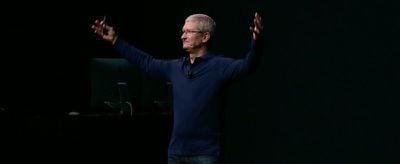 A primary item of business on the agenda is to elect the Board of Directors to serve until the next annual meeting of shareholders in 2018, with Apple nominating the same eight individuals currently serving on its board: Tim Cook, Al Gore, Bob Iger, James Bell, Andrea Jung, Art Levinson, Ron Sugar, and Sue Wagner.
The filing reveals Apple CEO Tim Cook made $8.7 million in 2016, down from $10.28 million in 2015 and $9.2 million in 2014. Cook's earnings included a base salary of $3 million, non-equity incentives of $5.37 million, and other compensation of nearly $378,000. Other named executives netted nearly $23 million apiece.
Apple Executive Compensation in 2016
• Apple CEO Tim Cook: $8,747,719
• Apple CFO Luca Maestri: $22,803,569
• Apple retail chief Angela Ahrendts: $22,902,892
• Apple services chief Eddy Cue: $22,807,544
• Apple hardware engineering chief Dan Riccio: $22,807,544
• Apple general counsel Bruce Sewell: $22,807,544
The filing did not disclose compensation for other key Apple executives such as design chief Jony Ive, operating chief Jeff Williams, software engineering chief Craig Federighi, and marketing chief Phil Schiller.
Apple noted it did not meet its target performance goals for both net sales and operating income in 2016, resulting in the senior executives receiving only 89.5% of their cash incentives. In 2015, the executives received 100% of their cash incentives as Apple met its performance goals for sales in that year.
Update: While Cook earned roughly $1.5 million less from his base salary and non-equity incentives in 2016, it was also the year in which he reached five years as CEO and unlocked nearly $137 million in previously-awarded stock bonuses tied to both his tenure and Apple's performance under his leadership. Accordingly, Cook earned roughly $145 million last year, his biggest payout yet as head of the company.