Apple's website has been updated to indicate the LG UltraFine 5K Display now ships in 3-5 business days in the United States, compared to a previous estimate of 2-4 weeks listed since just minutes after the display launched on December 20. The improvement suggests the display's supply and demand mix has improved.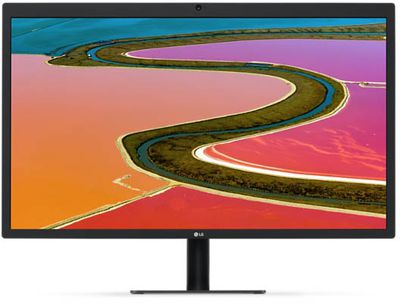 The new 5K display, created in partnership with Apple, remains on sale for $974 until March 31, when the price will return to $1,299.95. Shipping estimates vary in other countries, including 2-3 weeks in the United Kingdom, 4-6 weeks in Australia, and upwards of 1 week in Canada.
LG's UltraFine 5K Display connects to the latest MacBook Pro with a single Thunderbolt 3 cable, which simultaneously streams up to 5K video, transfers data, and charges the notebook at up to a full 85W. Apple also sells a 21.5-inch UltraFine 4K Display for $524 until March 31, when it returns to $699.
In addition to 5K resolution, the 27-inch display has a wide DCI-P3 color gamut that shows more vibrant colors compared to the traditional sRGB standard. It also has a built-in camera, microphone, stereo speakers, and three downstream USB-C ports at 5 Gbps speeds for connecting peripherals.
MacRumors editor-in-chief Eric Slivka called the LG UltraFine 5K Display a "worthy companion" to the latest MacBook Pro, even without the same look and feel as Apple's discontinued Thunderbolt Display. Also be sure to read our USB-C Display Buyer's Guide for other display options with single-cable connectivity.