Apple Now Selling LG's UltraFine 5K Display, Extends $974 Sale Price Until March 31
LG's new UltraFine 5K Display is now available for purchase for $974 on Apple's website in the United States, with orders initially estimated to ship in 3-5 business days but quickly slipping to 2-4 weeks.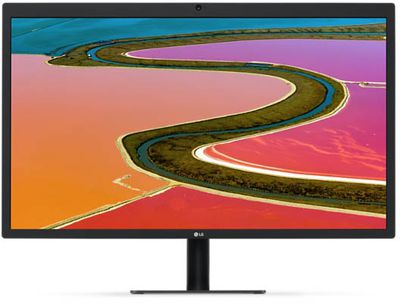 Apple has extended its $974 sale price for the display until March 31, 2017, when the price will return to $1,299.95. The discount was previously set to expire on December 31, but it was likely extended due to the display's lack of availability until late into the month. Apple's discount on USB-C adapters is similarly extended.
Apple teamed up with LG to create both the 4K and 5K UltraFine Displays, specifically designed to work with the new 13-inch and 15-inch MacBook Pro. Both displays connect over a single cable, but the 5K display is only compatible with the new MacBook Pro, as it requires a Thunderbolt 3 connection.
LG's smaller 21.5-inch UltraFine 4K Display began shipping in early November, while the 5K version briefly became available to purchase in late November. The displays serve as a successor to Apple's own Thunderbolt Display, which it discontinued earlier this year amid its departure from the standalone display business.
The display's Thunderbolt 3 port enables pass-through charging to the new MacBook Pro at up to a full 85W. Its wide DCI-P3 color gamut shows more vibrant colors compared to the traditional sRGB standard. The display also has a built-in camera, microphone, stereo speakers, and three downstream USB-C ports at 5 Gbps speeds.
Tech Specs
• 27-inch IPS LED display
• 5,120×2,880 pixels resolution
• 16:9 at 217 PPI
• 60Hz refresh rate
• DCI-P3 wide color gamut
• 500 cd/m2 brightness
• 1 Thunderbolt 3 and 3 USB 3.1 Type-C ports
• Thunderbolt 3 cable included
• Power delivery up to 85W to new MacBook Pro
LG's UltraFine 5K Display is also available in Canada for $1,274, in Australia for $1,416.95, in the United Kingdom for £884, in Germany, France, Italy, and Spain for €1,049, in Hong Kong for $7,488, in Singapore for $1,408, and elsewhere. Pricing and shipping dates vary.
To compare the UltraFine 5K Display with the competition, read our Thunderbolt 3 and USB-C display buyer's guide.
Update 8:42 AM: Shipping estimates have already slipped to 2-4 weeks.