Google spin-off Waymo unveiled its fleet of 100 self-driving Chrysler Pacifica minivans in a preview event ahead of the North American International Auto Show on Sunday (via USA Today).
John Krafcik, CEO of Waymo, told attendees at the Detroit event that the fleet packs an array of new sensors that were all developed in-house, including an enhanced vision system, improved radar and laser-based lidar.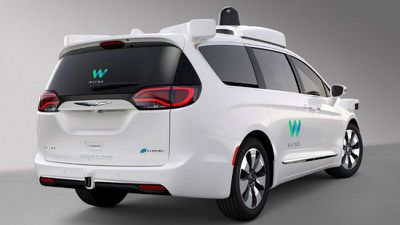 "We're serious about creating fully self-driving cars that can help millions of people, and to do that we have to oversee both the self-driving software and the self-driving hardware," said Krafcik.
The autonomous vehicles are the result of a partnership between Google and Fiat Chrysler that was agreed last spring, and represent the first time Google has chosen to build self-driving technology itself, rather than turn to third-party manufacturers. As a result, Waymo said the company had been able to cut costs by 90 percent.
But apart from cutting costs, Krafcik told attendees that building the hardware in-house had allowed the company to develop better technology, such as an improved rooftop radar system, or Lidar, that allows the cars to read more information off the environment.

"The detail we capture is so high that not only can we detect pedestrians all around us, but we can tell which direction they're facing," said Krafcik. "This is incredibly important, as it helps us more accurately predict where someone will walk next."
The hybrid vehicles will join the company's Lexus SUVs and Firefly vehicles on public roads in California and Arizona later this month to speed up testing. Waymo has yet to reveal when the self-driving system employed in the minivans will be ready to install in production vehicles, but the companies are thought to be planning an autonomous ride-sharing service to compete with the likes of Uber and Lyft.
Apple's self-driving technology plans remain tightly under wraps, but Cupertino is thought to be developing its own autonomous driving system for use in third-party vehicles. The company is said to have given its car team until 2017 to prove the feasibility of a self-driving vehicle system.
Apple revealed its interest in the emerging self-driving market in November 2016 when it sent a letter to the U.S. National Highway Traffic Safety Administration, suggesting that new entrants to the auto industry should get the same rights as established companies.