Apple Allegedly Partnering With Carl Zeiss for Augmented Reality Glasses
Apple and German company Carl Zeiss AG are working together on a pair of augmented reality smart glasses that could be announced as soon as this year, claims well-known blogger Robert Scoble in a Facebook post.
According to Scoble, a Zeiss employed allegedly confirmed the partnership between the two companies in a conversation that took place at the Consumer Electronics Show in Las Vegas, Nevada last week.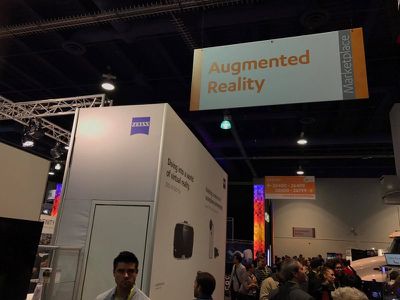 Zeiss' booth at CES. Image via Robert Scoble
Scoble questioned the Zeiss employees at the show after noticing Zeiss had a booth in the augmented reality section of CES without showing off an augmented reality product. He believes Apple forced Zeiss to keep quiet about an upcoming release.
Exclusive news: Apple and Zeiss working together on augmented reality optics. [...]

A Zeiss employee confirmed the rumors that Apple and Carl Zeiss AG are working on a light pair of augmented reality/mixed reality glasses that may be announced this year. (I thought it was next year but now that I saw this I believe it will happen this year).
It's not clear how reliable Scoble's information is, but previous rumors have suggested Apple is working on a set of smart glasses that would connect wirelessly to the iPhone and display images and other information to the wearer.
Apple is said to have contacted suppliers about the project, which appears to be in the exploratory prototyping phase of development. While Scoble believes the glasses could be released in 2017, previous information points towards a 2018 or later release.
Apple has a full team dedicated to AR/VR research and exploring how the technologies can be incorporated into future products. Multiple times over the past year, Tim Cook has said that Apple has a deep interest in augmented reality. "AR can be really great. We have been and continue to invest a lot in this. We're high on AR in the long run," he said in July.