Samsung Matches Jet Black iPhone With New Glossy 'Black Pearl' Galaxy S7 Edge
Samsung as rumored last month has announced the Galaxy S7 edge will be available in a new "Black Pearl" color in select markets starting tomorrow. The glossy finish, exclusive to 128GB versions of the smartphone, will inevitably draw comparisons to the Jet Black iPhone 7 and iPhone 7 Plus.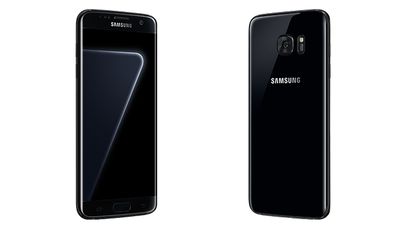 Samsung already offered the Galaxy S7 edge and ill-fated Galaxy Note7 in a somewhat glossy Black Onyx finish, so we will have to wait for actual photos of the new Black Pearl color to see the difference between the two colorways. Samsung said the all-black finish "radiates quality and luxury."
Black Pearl was designed to be modern and striking. The sleek black finish blankets the entire device – edges and all – and adds depth to its glass design. The result is a stylish all-black aesthetic that captures the essence of the color in its purest form.
The new color arrives nearly two months after Samsung permanently discontinued the Galaxy Note7 following battery-related safety risks.
Samsung following in the footsteps of iPhone colors is not unprecedented. Earlier this year, it released the Galaxy S7 in Pink Gold after Apple launched the iPhone 6s in Rose Gold last year. However, in Samsung's defense, it has offered some variation of a pink smartphone in select markets since at least 2012.
The new color follows reports Samsung's next-generation Galaxy S8 will not include a headphone jack, following in the footsteps of the Moto Z in June and iPhone 7 in September. The Galaxy S8 is also said to have a bezel-free display and virtual home button, two features rumored for Apple's next iPhones.