App Store Gains New Section for Single Sign-on Apps From Supported TV Providers
Ahead of the official launch of Single Sign-on on tvOS 10.1 and iOS 10.2 later this month, Apple has added a new App Store section (via reddit) with apps that support the feature for beta testers. The apps are categorized by supported TV providers, including DirecTV, Dish, Sling TV, Hotwire, and GVTC.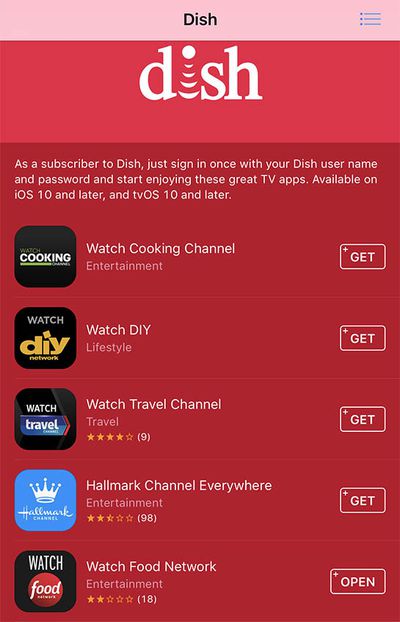 If you are a Dish Network satellite TV subscriber, for example, you can sign in once with your Dish username and password to start using any of the following apps, among others: Watch Cooking Channel, Watch DIY, Watch Travel Channel, Hallmark Channel Everywhere, and Watch Food Network.
When you open an app that supports Single Sign-on on iOS 10.2 beta, a pop-up alert asks if you "want to allow XYZ to use your sign in credentials," according to beta testers. If you decline, the app lets you sign in and authenticate with a provider-specific username and password as usual.
On a fourth-generation Apple TV running tvOS 10.1 beta, Single Sign-on can be accessed by opening the Settings app and navigating to Accounts > TV Provider. On an iPhone or iPad running iOS 10.2 beta, Single Sign-on can be accessed by opening the Settings app and tapping on the TV Provider section.
Single Sign-on will be available on tvOS 10.1 and iOS 10.2 in December upon completion of beta testing, enabling U.S. customers to sign in once with their cable TV credentials to access all live cable content available through their cable TV subscription, even when it is spread across multiple apps.