Single Sign-On Now Available in tvOS 10.1 and iOS 10.2
Sometime over the course of the last few hours, Apple appears to have quietly activated the much-promised Single Sign-On feature for the Apple TV and iOS devices, making it available to developers running the tvOS 10.1 and iOS 10.2 betas.
Single Sign-On, as rumored, appears to support only a limited number of cable services, including Dish, GVTC Communications, Hotwire, and Sling TV.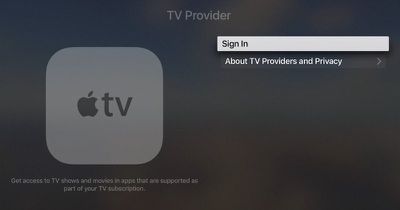 On the fourth-generation Apple TV, Single Sign-On settings can be accessed by opening the Settings app and navigating to accounts, where a TV Provider section is now available alongside Home Sharing. Customers can sign in to a service at this menu and will presumably be able to access all content associated with that subscription.


On the iPad and the iPhone, the same TV Provider section is available in the Settings app, located below the section for signing into social networks.


Single Sign-On is designed to allow users to sign in once with their cable credentials to access all live cable content available through their cable subscription, even when it's spread across multiple apps. Apple's aim with Single Sign-On is to simplify and streamline the television-watching experience on the Apple TV.
Dish and Sling TV are well-known television providers, while GVTC and Hotwire are smaller regional services. Hotwire is available in Florida, South Carolina, Maryland, Pennsylvania, New Jersey, and New York, while GVTC is only available in a small part of Texas, including north of San Antonio and the Gonzales area.
With the limited availability of Single Sign-On, it will only be available to a small number of Apple customers to begin with, but Apple is undoubtedly working to get more providers on board.