Apple Plans to Use Data-Collecting Drones in Order to 'Catch Up' With Google Maps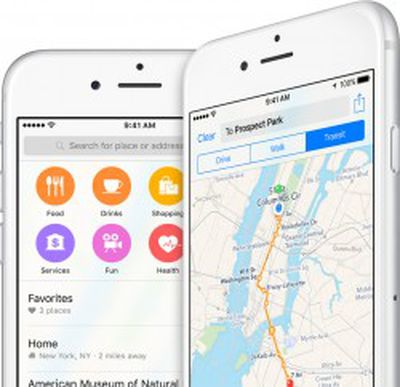 Apple is putting together a team of robotics and data-collection experts who will use drones, and "new indoor navigation features," to bolster and further improve the quality of Apple Maps. The move is said to be positioned as a method to catch up with Google, the longtime leader in the mapping field (via Bloomberg).
The drones will be able to capture and update Apple Maps at a far quicker rate than Apple's collection of GPS data-collecting minivans, which began appearing in the United States in early 2015.
In addition, a new feature is said to be coming to Maps that will let users view the insides of buildings, thanks to its Indoor.io and WifiSLAM acquisitions, and overall improvements will be made to navigation within the app.

Apple wants to fly drones around to do things like examine street signs, track changes to roads and monitor if areas are under construction, the person said. The data collected would be sent to Apple teams that rapidly update the Maps app to provide fresh information to users, the person added.
According to documents gathered by Bloomberg News, Apple already filed for an exemption from the Federal Aviation Administration to be able to fly drones for commercial purposes, and was granted approval to "operate an unmanned aircraft system to conduct data collection, photography, and videography." According to current rules, Apple's drone fleet would be restricted from flying over people and buildings, would be designated to operate only in daytime, and could only be flown by licensed pilots.
One of the pilots is said to have already been hired from Amazon's fledgling Prime Air program, and they will join the Apple Maps drone team at its base in Seattle, Washington. The indoor mapping initiative is said to be moving forward at the same pace as the drone fleet, with Apple's hope being to help customers navigate airports "and other high-traffic buildings like museums" using their iPhones. This feature, along with a Maps update that will provide users "better guidance for changing lanes while driving," is believed to launch next year.