Hidden 'Indoor Survey' App Created by Apple Discovered on App Store
Apple last week quietly launched a new first-party app called Indoor Survey [Direct Link], which allows its users to map out the interior space of a building using their iPhone. Spotted by developer Steve Troughton-Smith yesterday evening, the app specifically uses radio frequency signals in concert with an iPhone's various sensor data to successfully map an interior location (via AppleInsider).
The app, however, doesn't appear to be entirely functional as of yet. When prompted with Indoor Survey's home menu, after entering an Apple ID and password, users will be met with an Authorization Failed message and be barred from further accessing the app's suggested indoor mapping abilities. The app is also briefly mentioned on a banner within Apple Maps Connect after signing in, asking users to sign up to the indoor mapping initiative if they represent a venue with a handful of attributes Apple is looking for.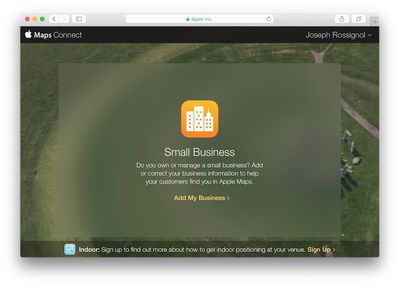 "Enable indoor positioning within a venue using the Indoor Survey app. By dropping 'points' on a map within the Survey App, you indicate your position within the venue as you walk through. As you do so, the indoor Survey App measures the radio frequency (RF) signal data and combines it with an iPhone's sensor data. The end result is indoor positioning without the need to install special hardware."
The new app could be the result of Apple's purchase of WifiSLAM in 2013. The indoor location company had developed a way for an app to detect someone's location within a building using Wi-Fi signals, which seems to be on par with Indoor Survey's abilities today. The technology is slightly similar to the company's iBeacons software it runs in all of its retail stores, which locates a user's iPhone when entering an Apple Store and updates them on various promotions, classes, and product information.


Currently, Indoor Survey can't be found using the search function on the App Store and can only be discovered via iTunes directly. The app was last updated on October 27, so it had been on the App Store for at least a week before anyone discovered it. The app's description mentions requiring iOS 9 or later with iPhone, iPad, and iPod touch compatibility and an 18MB download size.