Amazon's next iteration of the Echo speaker will be a "premium" model that includes a touchscreen measuring around seven inches, marking "a major departure" from the tall, cylindrical design of the Echo currently on sale. The company is said to be upgrading Echo for two reasons: to capitalize on the device's success, and as early preparation to "fend off competition" from Google Home and Apple's rumored entry into the smart home speaker market (via Bloomberg).
The logic behind adding a touchscreen to Echo is reasoned as a way "to make it easier to access content," like the weather and upcoming calendar events. Currently, Echo is a voice-activated device with limited volume and mute buttons on its topside. While the exact design of the speaker wasn't pinned down, people familiar with the plans said it will be larger and "tilt upwards" so users can read the screen when the Echo sits on a kitchen counter or desk.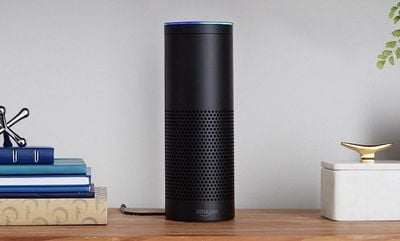 The new device will have a touchscreen measuring about seven inches, a major departure from Amazon's existing cylindrical home devices that are controlled and respond mostly through the company's voice-based Alexa digital assistant, according to two people familiar with the matter. This will make it easier to access content such as weather forecasts, calendar appointments, and news, the people said. They asked not to be identified speaking about a product that has yet to be announced.

Amazon's planned expansion of the Alexa-powered line coincides with growing competition from Alphabet Inc.'s Google Home speaker and Apple Inc.'s interest in building a home device using its Siri digital assistant.
The upgraded Echo is also believed to get a major boost to speaker quality and "sound much better" than the current line of Echo speakers. One version of Amazon's prototype of the upcoming device placed the speakers below and behind the screen, which is said to help the new generation of Echo "play high-quality audio at all volume levels." The current Echo was designed to sound better at only moderate volume levels.
In total, Amazon is now selling the Echo Dot, Amazon Tap, and Amazon Echo, for $50, $130, and $180 respectively, and the upcoming speaker -- believed to be announced as early as Q1 2017 -- is expected to be the most expensive Echo in the line.
On Apple's side, the most recent reports placed the Cupertino company's Siri-fueled, Echo-like device in the prototype phase. The Siri speaker is expected to include the usual support for music playback, search queries, and dictation, with additional potential for new technology, like facial recognition.