Google Home Reviews: Handsome Design Not Enough to Outweigh 'Rough Around the Edges' Feel
Reviews for Google's new smart home speaker system, Google Home, have released this morning, bringing a collection of opinions about the newest entry in the wireless Bluetooth speaker category, which Apple is rumored to be entering in the future. Google originally introduced Google Home at its I/O Conference in May, and then officially announced it alongside the Pixel Phone at an event in October.
The first batch of reviews for Google Home appear to mostly align with a single opinion: the speaker is an impressive addition to the home, but in some ways it's less reliable, and its Google Assistant-powered AI doesn't beat Amazon's Alexa in most instances. As is usual with a new product category gaining entries from various companies, the decision rests solely on personal preference of which company each user believes will deliver the best experience, and iterate most consistently down the line.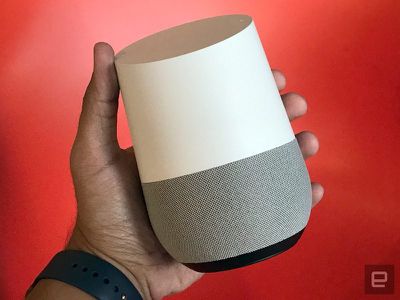 Images via Engadget
That's the way that
Wired
began its review for Google Home, which it says can sometimes feel "like sci-fi magic," and other times is simply unreliable. The sci-fi magic comes in with Google Assistant, which
Wired
says provides smart search results for random inquiries ("What's the difference between acetaminophen and ibuprofen?"), but other times was "shockingly stupid," fumbling movie release date trivia and other questions.
Ultimately,
Wired
found that Google Home was "a lot simpler" and less intuitive than the futuristic advertising Google is generating for the device. The site said that Google Home has great potential, particularly in upcoming features like voice-recognized user profiles, deeper connections with Pixel Phone, and the introduction of more third-party support. For now, it'll depend on user preference for each company -- Google or Amazon -- since the speakers align so closely in most areas.
Someday, assuming Google keeps caring about Home, I suspect the device will be more like the ad. It'll be smart and integrated enough to know that your flight is delayed and change your dinner reservation, to turn on all the lights in your house, to tell you how to get to work, to teach your kids about the world, and all the rest. Right now, it's simpler than that. Like, a lot simpler.

Both devices are excellent, both have bright futures, both are increasingly essential parts of your household. I bought a Home because I like the design, and I like the sound quality. If you buy an Echo because you love your Sonos and don't trust Google with your data, you'll be perfectly happy as well.
The Verge continued this "rough around the edges" sentiment in its review, liking the way that Google Home could carry on a casual conversation, asking about Abraham Lincoln, in a way that Echo could not. But the device's Google Assistant felt like it's "still in its very early days," with inconsistent responses from a dual-speaker set-up, "fuzzy" speaker quality, and limited single account support. The site has "no doubt it will improve," but early adopters should be aware of the bumpy road ahead.


Google Home also "looks a lot better than the Echo," The Verge believed, with a softer white design that meshes better with most home decor than Amazon Echo's tall black cylinder. The interchangeable bottom plates (for $20 extra each) also add to a better overall design that could be a sole selling point for some users who prefer to look at Google Home daily over Echo.

To paraphrase Google's own CEO, Sundar Pichai, artificial intelligence is still in its very early days. And, in my opinion, Google Home shows that. I have no doubt it will improve. But I was surprised that Google Home arrived so rough around the edges, especially when it had an existing competitive product to learn from, and an unmatched wealth of data to draw upon.

Like a dominating batter in a tight World Series game, you kind of expect Google to hit a game-winning homer. But it merely hit a double, and the contest is still very much on.
One of the biggest categories that Google Home lags behind in out of the gate, according to Engadget, is third-party support. At launch, it can control devices from Nest, Hue, IFTTT, and SmartThings, but Amazon's list stretches far beyond that, now including various "skills" that developers can update on Echo with new commands on a weekly basis. On the other hand, for users who are baked into the Google ecosystem, Engadget said "this might indeed be the home assistant for you."

Right now, however, it's little more than a toy. It's fun and occasionally very convenient to ask it questions and have it perform simple tasks, but it's hardly an essential part of my life. But Google Home is worth keeping an eye on -- it will almost certainly be more capable in three months (or even three weeks) than it is now.

If you're someone who loves tapping into Google's mighty store of knowledge, don't sleep on Google Home. Just as the Echo got smarter and more valuable over time, I expect the same will happen here. And if you've already bought into Google's ecosystem, this might indeed be the home assistant for you.
Wired's advice appears to represent the back-and-forth nature of most Google Home reviews: it's a decent addition into a category that is only increasing in relevance and importance. "There's only one mistake you can make, really," the site summed up at the end of its review. "Not letting a smart speaker into your home at all. These things are great, and they're only getting better."
For more reviews and opinions on Google Home, check out the coverage from these sites:
- TechnoBuffalo
- Business Insider
- CNN
- USA Today
- Mashable
- Time
- TechCrunch