Recode has announced Apple Pay vice president Jennifer Bailey will speak at its latest Code Commerce event at Westfield's Bespoke in San Francisco on December 6.
Apple executive Jennifer Bailey has been with the company for 13 years, first running all of Apple's e-commerce sites and now heading up the digital payments service Apple Pay. While there's still industry debate about whether Apple Pay's tap-and-pay payments are the future of in-store shopping, most smart industry people agree the new Apple Pay for the web is going to be huge. Add to that rumors of a new MacBook Pro with a fingerprint sensor built in for Apple Pay purchases, and we are going to have a whole lot to discuss with Bailey in December.
Code Commerce features interviews from entrepreneurs and executives "driving change" in the e-commerce and payments industries.
Apple Pay is now available in 12 countries, including the U.S., U.K., Australia, Canada, China, France, Hong Kong, Japan, New Zealand, Russia, Singapore, and Switzerland, with evidence pointing towards a German launch soon.
Apple CEO Tim Cook yesterday said Apple Pay transactions increased nearly 500% year-over-year in the September quarter. Apple Pay saw more transactions in the September quarter than all of 2015 around the world.
The lineup of speakers will also include Jack Dorsey, founder and CEO of mobile payments company Square, and Peter Szulczewski, founder and CEO of Wish, the second most popular shopping app in the U.S. behind Amazon.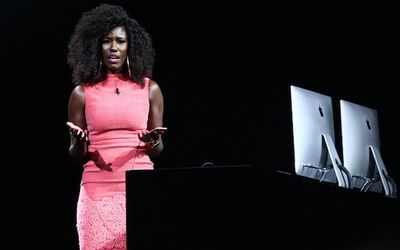 Apple executive Bozoma Saint John, Head of Global Consumer Marketing for Apple Music and iTunes, will likewise speak at Fortune's Most Powerful Women Next Gen Summit, a two-day event on November 29-30 in Laguna Niguel, California.
MPW Next Gen Summit provides participants with an "unparalleled opportunity" to connect with other "rapidly rising executives, entrepreneurs, and innovators in business, government, philanthropy, education and the arts."