Apple Stores Removing Security Tethers From iPhone Display Models
Apple revamped its retail stores last year by removing iPad smart signage and demoting iPod display models to side shelves, and now the company has another move up its sleeves in a push towards simplicity.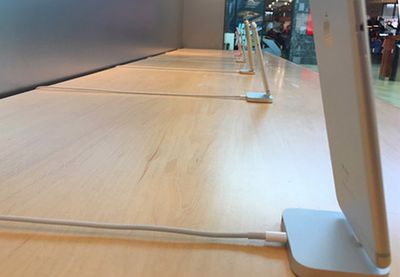 iPhone display models docked with only Lightning charging cables in Toronto
Over the past few months, Apple has removed security tethers from iPhone display models at some of its retail stores, including its Yorkdale location in Toronto, Canada and
redesigned Regent Street store
in London, England.
MacRumors has learned of at least two other stores in the United Kingdom where the security tethers, which activate audible alarms when disconnected, have been removed, and it appears likely the change will be phased in at other locations.
The courageous move effectively allows customers to walk into an Apple retail store, pick up an iPhone display model, and walk out with the device without paying, but Apple evidently feels the untethered experience is worth the risk.

iPhone display models with security tethers (Image: Mirror.co.uk)
As
CNET
explains, Apple wants customers to be able to hold an iPhone properly, try out cases, and even pocket the device:
Apple says this is to allow people to hold them properly, try cases on them and even see how they feel in your pocket. It's a bold move, especially given the lack of visible security in the building. We couldn't spot a single CCTV camera, although any phone taken out of the store will set off an alarm. If not returned, the phones will also be rendered unusable.
The customers who do attempt to steal iPhone display models, if not caught by security or CCTV cameras where installed, will walk away with unusable devices, as Apple will place them into Lost Mode remotely using Find My iPhone.
Apple continues to use security tethers on larger products such as MacBook and iPad display models.

(Thanks, Peter!)