Apple's Tim Cook Meets Nintendo's Shigeru Miyamoto During Japan Visit
While on a visit to Japan, Apple CEO Tim Cook met with Nintendo's legendary game designer Shigeru Miyamoto. Earlier this morning, Cook posted a good morning greeting from the county alongside a picture of him walking through torii, traditional Japanese gates that are often posted outside of shrines.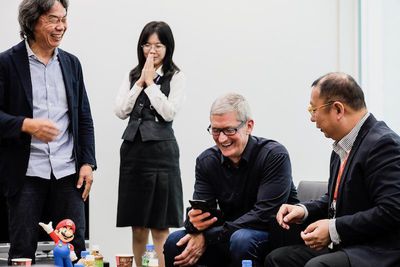 Cook tweeted that he was learning how to play the upcoming
Super Mario Run
as he met with Miyamoto and his team at Nintendo's Kyoto headquarters. Miyamoto
appeared
at Apple's September special event and announced that the new game would appear on iOS by the end of the year.
Nintendo had consistently refused to license its intellectual property to other platforms, fearing that it would threaten its console and handheld-based business model. However, in early 2015 it changed its mind, announcing that it would partner with Japanese mobile game make DeNA to release 5 mobile games by March 2017.
Miyamoto says the Japanese game maker had realized that most children's first interaction with technology is more likely to be a parent's smartphone than one of its game consoles. By putting simple games based on its biggest characters, like Mario, on mobile devices the company hopes that it can convince players to migrate over to its first-party hardware for more complex experiences.
In addition to Super Mario Run, Nintendo and DeNA plan to release Animal Crossing and Fire Emblem this fall, though details for the latter two games have been scarce thus far.
Cook's Japan trip comes shortly after the CEO made a stop in Shenzhen, China, announcing that Apple would be opening a new research and development center in the city. It's unclear what else Cook has planned during his Japan trip.