Apple announced tonight that it would open a new research and development center in Shenzhen, China, continuing attempts to boost its presence in the country, reports Reuters. The move comes a couple weeks after Apple opened a Beijing R&D center, which was announced in August.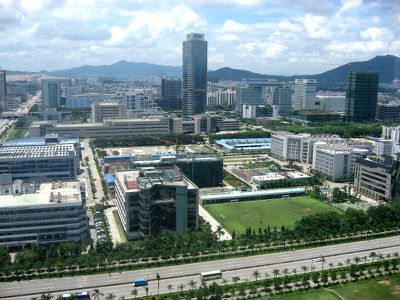 Shenzhen's High-Tech Industrial Park, Photo by Brucke Osteuropa
Cook announced the new Shenzhen plan during a meeting with officials from the city. The Apple CEO is reportedly attending a "nation-wide innovation" event.
"We are excited to be opening a new Research and Development center here next year so our engineering team can work even more closely and collaboratively with our manufacturing partners," Cupertino-based Apple spokesman Josh Rosenstock said in emailed comments.
Apple is interested in attracting talented software developers in Shenzhen to its platform. The Cupertino company told Reuters that the new Shenzhen and Beijing centers are aimed at "strengthening relationships" with local partners and universities across the country.
The new centers are also seen as the company's response to concern about its future in China, where consumers are opting for low-cost alternatives to the iPhone. Additionally, Apple has experienced a number of road blocks in its China plans, including the closure of the iTunes and iBooks stores.
Apple has also set up R&D centers in Japan, Israel and the U.K, and is reportedly planning similar centers in Canada, India, Vietnam and more.