Apple has set up its first research and development center in China in Zhongguancun Science Park, according to a statement released by the Zhongguancun Park Management Committee (via DigiTimes).
Zhongguancun is a technology hub situated in the Haidian District in northwestern Beijing and is very well known in China. Often referred to as "China's Silicon Valley", the area has gathered nearly 20,000 technology enterprises since its emergence in the 1950s. The hub has many local prestigious academy affiliations, and is home to research centers for several global tech companies, including Google, Intel, AMD, Sony, and Microsoft.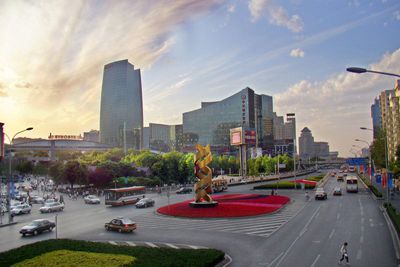 Zhongguancun main street and plaza in northwestern Beijing, China.
.
Apple's new R&D center in Zhongguancun has reportedly registered a capital of $15 million, with total investment likely to reach $45 million in the future, according to the park's press release. The center will employ a total of 500 staff and focus on the development of "computer software and hardware products, communication, audio and video devices, as well as advanced technologies for consumer electronics products and the information industry".
The R&D facility is expected to complete in 2016 and to be used to integrate Apple's engineering and business teams to increase regional sales and services, according to media reports in China.
The news comes on the heels of Apple CEO Tim Cook's announcement last month during a visit to China that an R&D center would be coming to the country "by the end of the year".
The move has been seen as a response to the iPhone's dwindling returns in the country as consumers opt for low-cost alternatives available on the Chinese market. Apple has also experienced a series of setbacks in the region this year, including the closure of the iTunes and iBooks store and a number of lawsuits that have prevented it from being able to focus on gaining traction in the country's lucrative mobile segment. Although once Apple's second largest market in the world, the company announced during July's earnings report that its revenue in China had dropped 33 percent year-over-year.
Apple has set up similar R&D centers in Japan, Israel, and the UK, and is said to be planning similar facilities in Canada, India, Indonesia and Vietnam to take advantage of local resources.