iPhone 7 and BMW Owners Experiencing Bluetooth Audio Issues
Over the past two weeks, an increasing number of iPhone 7 and iPhone 7 Plus users have experienced Bluetooth audio issues in vehicles. The majority of users experiencing problems appear to be BMW owners, regardless of model, but other vehicle brands such as Hyundai and Kia appear to be involved in limited cases.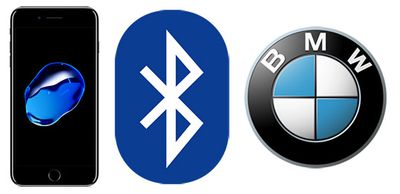 The issues range from audio cutting out to connectivity issues with infotainment systems. BMW users in particular report being able to stream music for about 5-10 seconds, at which point the ConnectedDrive system freezes. Fixing the system requires restarting the iPhone, but the issue reemerges once the connection is reestablished.
MacRumors reader YachtMac posted in our discussion forums:
My iPhone 7 Plus with iOS 10.0.2 will not stream audio for more than a few seconds in a BMW 4 series with the latest multimedia software. I have researched the issue and others with BMWs and other makes seem to be experiencing the same or similar streaming issues. Moreover, once the fault occurs the mobile telephone connection then becomes flakey as well. The only thing I can do is to disable the audio streaming option in order to have a phone that works in the car as a phone.
Apple Support Communities member Chandy911 echoed the same problem:
I just upgraded to an iPhone 7 Plus running iOS 10.0.1 and I am having issues playing music through Bluetooth on BMW ConnectedDrive. I've upgraded the BMW software on my car to the latest version from BMW's website, but I still get disconnected on Bluetooth after about 5-10 seconds after playing music. I've tried to restore the phone and set it up as a new phone. I've deleted the connection both on the device and car, but the issue persists.
MacRumors reader PorscheRain:
iPhone 7 in 2015 BMW 235i disconnects from Bluetooth after steaming audio for 10 seconds. Once disconnected, iOS no longer sees the vehicle's Bluetooth source. The only recourse is to forget the device in Settings and repair with the vehicle. I've isolated iOS as not the key issue (iPhone SE works fine on the same iOS 10.0.1, so did my prior iPhone 6s). Apple had me swap out the device at the store; the same thing is occurring on the new iPhone 7.
BMW itself has acknowledged the issues and said it is working with Apple to ensure iPhone 7 compatibility in its vehicles:
We are aware of the concerns you speak of and we are currently working directly with Apple to ensure iPhone 7 compatibility in our vehicles. At this time, the Apple iPhone 7 is not an approved device for our vehicles until testing has completed. We do not currently have an estimated time frame regarding the completion of iPhone 7 testing. Please continue to look for an update from Apple for a new iOS and our update website to help resolve your concerns: www.bmw.com/update. We apologize for any inconvenience this has caused.
Apple has seemingly told some customers the fix will be included in an upcoming software update. The issue is still present on iOS 10.1 beta. BMW owners are recommended to update to the latest version of ConnectedDrive as a preparative measure. BMWs equipped with CarPlay do not appear to be affected.
These types of issues have been seen before. In 2014, some users experienced trouble pairing their devices to their vehicles via Bluetooth after upgrading to iOS 8 or purchasing a new iPhone 6 or 6 Plus. Apple fixed the issues in iOS 8.1. Similar issues affecting some iPhone SE users were addressed in iOS 9.3.2.