Many iPhone SE Users Experiencing Bluetooth Phone Call Audio Issues [Fixed]
Over the past two weeks, an increasing number of iPhone SE early adopters have reported audio issues with Bluetooth phone calls when the smartphone is paired with a vehicle or wireless headset. The issue extends to GPS voice navigation for some, but streaming music over Bluetooth appears to be unaffected.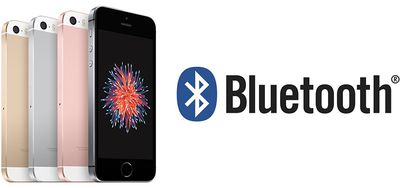 Specifically, dozens of users in the Apple Support Communities and MacRumors discussion forums claim to be experiencing distorted, staticky, or inaudible phone calls when using an iPhone SE over Bluetooth. Many of those affected noted that their previous iPhone model had "crystal clear" audio quality.
MacRumors reader HickDead recently posted a forum topic to share his experience:
I actually had to return my SE back to Verizon because my Bluetooth calls reception quality was terrible. Playing music or YouTube videos through the Bluetooth was excellent but when it came to phone calls, the sound was constantly cutting in and out and sounded "scratchy" and distorted.

Never had this issue with my previous 6S or my work-issued Android phone. Tried my SE in a different vehicle and got the same results. I've unpaired and repaired and I even restored my SE and set up up as a new device but nothing has worked.
Based on crowdsourced information, the issue appears to affect all iPhone SE models running iOS 9.3 or 9.3.1, regardless of carrier or model, in the U.S., Australia, Canada, Germany, Sweden, U.K., and possibly elsewhere. The first iOS 9.3.2 beta does not appear to resolve the problem.
The issue does not appear to be isolated to any particular carmaker, as customers have reported identical issues with vehicles sold by Audi, BMW, Chevrolet, Chrysler, Dodge, Ford, GMC, Hyundai, Infiniti, Jeep, Kia, Mercedes-Benz, Nissan, Subaru, Toyota, Volkswagen, and many other makes and models.
It remains unknown if the problem is rooted in software or hardware, but a number of affected customers have attempted basic troubleshooting without success, including restoring the iPhone SE, resetting network settings, un-pairing and re-pairing Bluetooth, toggling cellular data, and changing SIM cards.
Some users that contacted Apple support by phone claim to have been escalated to higher-level iOS advisors that asked for log files. At least a few customers received confirmation that Apple engineers are aware of the Bluetooth issues internally and are working on a fix, but the timeline remains unclear.
Apple Support Communities user Ross_H_D posted this message on April 9:
I have been working with a high level support person who has assured me he is working directly with engineering. Apple has very much become engaged in this issue. They have had me do extensive testing of various conditions in order to document and troubleshoot. Further, there is an internal "Issue" board and tracking system for Apple support and this BT issue is on the top of the list. It was conveyed to me that this has become a very real issue internally and resources are now committed to its resolution.
This type of problem is not unprecedented. In early October 2014, some users experienced trouble pairing their devices to their car audio systems over Bluetooth after upgrading to iOS 8 or purchasing a new iPhone 6 or 6 Plus. The problems appeared to be fixed when Apple released iOS 8.1 later that month.
Update: Apple has released iOS 9.3.2 with a fix for iPhone SE Bluetooth issues.