Apple has announced a grand reopening date of September 24 for four of its U.S. retail locations, including stores at Market Common Clarendon in Arlington, Virginia, Brea Mall in Brea, California, Arrowhead Towne Center in Glendale, Arizona, and Stoneridge Shopping Center in Pleasanton, California. Apple's new store in Birmingham, England will also open on the same day while its Bullring store permanently closes.
Each store will open this Saturday at 10:00 a.m. local time, complete with Apple's next-generation retail layout, including The Avenue, Genius Grove, The Forum, The Plaza, and The Boardroom, coupled with some combination of large glass doors, sequoia wood shelves, indoor trees, light boxes extending the length of the ceiling, and large digital screens for product marketing.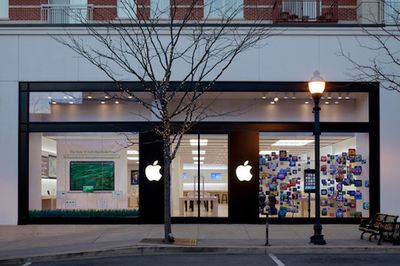 Apple opened its Clarendon store in 2001 as one of its first retail locations
Apple Clarendon opened in December 2001 as one of the company's first retail locations, retaining its classic black facade with two Apple logos for nearly fifteen years before
closing for renovations in April
. The store will remain located at 2700 Clarendon Boulevard in the Market Common Clarendon complex, a less than five mile drive from downtown Washington D.C.
Apple Brea Mall will be moving to a new space within the shopping mall, and Apple Arrowhead will be relocating to a new unit within its outdoor shopping center. Likewise, Apple Stoneridge will be moving into a larger 9,991-square-foot space recently vacated by clothing retailer Abercrombie & Fitch, according to building permits filed with the City of Pleasanton earlier this year.

Apple's all-new store at The Fashion Mall at Keystone in Indianapolis
September has been an eventful month for Apple retail, including two new stores in
Mexico City
and
Hong Kong
and thirteen grand reopenings announced so far:
two locations on September 2
,
four locations on September 10
,
three locations on September 16
, and four locations on September 24. Meanwhile, Apple Pentagon City in Arlington will close for renovations starting September 25.
Apple is in the process of renovating several of its stores with next-generation designs inspired by Jony Ive, with progress ramping up ahead of the holiday shopping season. All new stores opened since mid 2015 share the revamped design language, including the latest flagship locations at Union Square in San Francisco and at the World Trade Center transit hub in New York City.
Update: Apple Chandler Fashion Center is also moving to a new location on September 24.