Apple has announced its all-new store in Birmingham, England, located at 128 New Street, opens on Saturday, September 24 at 9:00 a.m. local time. Apple's nearby Bullring Shopping Centre store will permanently close on Friday, just one week after customers lined up for the iPhone 7 and iPhone 7 Plus.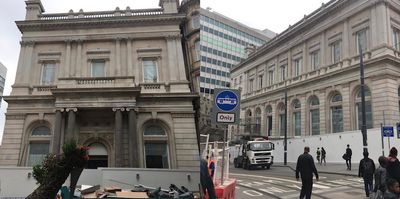 Apple Birmingham under renovations via MacRumors reader Barry Rimmer
Apple has
taken over a six-story building
recently vacated by British bookstore Waterstones, and originally built in 1879 for Midland Bank.
Major planning documents for the inside of the 20,000-square-foot former banking hall were submitted to the Birmingham City Council last year, and renovations have been in progress for the past several months. Apple's logo and the grand opening date were added to a construction barrier outside of the building last week.

Apple Store at nearby Bullring Shopping Centre
Apple Bullring opened in April 2005, and like many of its earlier locations, it is now too small and narrow to accommodate for increased foot traffic. Apple is in the process of relocating several of its retail stores to larger spaces, based on the company's next-generation retail design language inspired by Jony Ive.