Apple has proposed opening a flagship retail store and events center at Washington, D.C.'s historic Carnegie Library, according to The Washington Post. The new store is reportedly reminiscent of Apple's Union Square store in San Francisco, serving as both a retail outlet for the company and event center where it can host events for locals.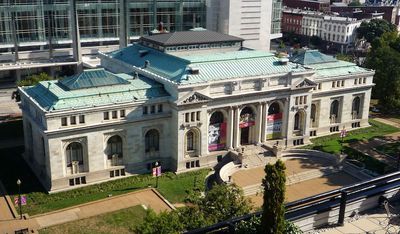 The 63,000-square foot Carnegie Library was one of the many buildings built with funds donated by steel tycoon Andrew Carnegie. The building, which was opened in 1903, is historically significant in the nation's capital as it's the first desegregated building in the city. Carnegie Library is publicly owned and funded with taxpayer money raised through hotel occupancy taxes.
However, the building's historical legacy and importance to D.C. has made it a difficult development project. As The Washington Post notes, a local history museum only lasted a year at the library, a planned music museum never opened and an International Spy Museum was turned away by the city's historical preservation panel.
Local government officials have been supportive of the idea, with The Post noting that an Apple retail presence in the area would punctuate a rapidly developing section of the city.

"Apple would be a huge attraction," said D.C. Council member Jack Evans (D-Ward 2), who represents downtown. Evans said he first heard about Apple's idea for the store earlier this year and that the addition would accelerate momentum for an area that is quickly adding new apartments, shops and office buildings just south of the Walter E. Washington Convention Center.
Of Apple's handful of stores in D.C., its Georgetown store is the closest to the Carnegie Library. Across the Potomac, the Cupertino company also has Apple Clarendon and Apple Pentagon City. The Clarendon store will be having its grand reopening on September 24, while the Pentagon City store will close on September 25 for remodeling.