Technical Certification Lists Improved iPhone 7 Battery Capacity, 3GB RAM for iPhone 7 Plus
Although Apple revealed a lot of information about the iPhone 7 and iPhone 7 Plus last week, the technical specifications of each device's mAh battery capacity and RAM were left undisclosed, as per usual with iPhone announcements. Now, new information from a technical certification obtained by Chinese site TENAA (via WCCFtech) appears to confirm previous rumors that placed the iPhone 7 Plus with 3GB of RAM and the iPhone 7 with a 1,960 mAh battery.
Specifically, the performance specifications list the iPhone 7 with 2GB of RAM and a 1,960 mAh battery, an improvement over the 1,715 mAh battery in the iPhone 6s. The rumors of an improvement in battery life emerged over the summer from OnLeaks' Steve Hemmerstoffer (who's known to share details and part leaks on devices before they launch), as well as an alleged iPhone 7 battery image leak that marked the new iPhone as having a capacity of 7.04 watt-hours, larger than the 6.61 watt-hour battery in the iPhone 6s.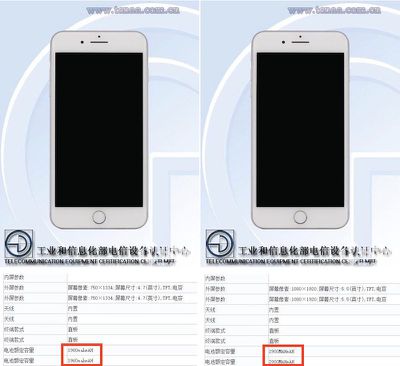 The iPhone 7 (left) and iPhone 7 Plus (right)
The iPhone 7 Plus appears to be facing a similar uptick in battery, with the filing depicting the 5.5-inch iPhone as having 3GB of RAM and a 2,900 mAh battery, another slight but noticeable improvement over the 2,750 mAh battery in the iPhone 6s Plus. What might be more interesting to some is the inclusion of 3GB of RAM, which has been rumored as a potential upgrade in the larger-screen iPhone 7 Plus because of the increased resource demands of the dual-camera system. A seemingly legitimate
Geekbench benchmark test
gave more credence to the rumor last week.
The resolution of the display for each iPhone also falls in line with what was previously known, with 1134 x 750 (326 ppi) for the iPhone 7 and 1920 x 1080 (401 ppi) for the iPhone 7 Plus.
If accurate, today's filing also pinpoints an interesting return to the battery life of the iPhone 6 and iPhone 6 Plus, which Apple lessened in the iPhone 6s and iPhone 6s Plus with lower-capacity batteries to potentially make room for 3D Touch's Taptic Engine. The iPhone 6 had a 1,810 mAh battery, while the iPhone 6 Plus has a battery capacity of 2,915 mAh.
As we near September 16 and the launch of the iPhone 7 and iPhone 7 Plus, more information and opinions regarding the new smartphones will continue to come to light. This morning, embargoes lifted on reviews for Apple's new smartphones, with the consensus stating the models are "terrific," foundational blocks for future iterations, but if you skip this generation you won't be missing out on much.