Benchmark Suggests iPhone 7 Plus Has 3GB RAM
Based on what seems to be a legitimate Geekbench benchmark of the iPhone 7 Plus, it appears Apple's larger-screened smartphone features 3GB RAM, as was rumored. In the list of details about the device, memory is listed as 2998MB, meaning it has 3GB RAM instead of 2GB RAM like the iPhone 6s Plus.
Prior to the announcement of the iPhone 7 Plus, rumors suggested it would have 3GB RAM because of the increased resource demands of the dual-camera system. The iPhone 7 features two 12-megapixel cameras, one that's the same as the wide-angle camera on the iPhone 7 and one telephoto camera.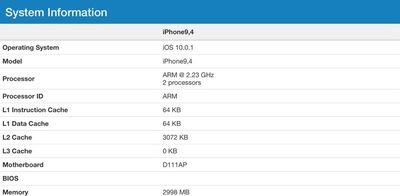 iPhone 7 Plus benchmark


When capturing a photo, images from both cameras are merged together via software so users can zoom in further, which is likely a system intensive process. Apple is also developing a depth-of-field effect that uses software and advanced machine learning techniques to highlight a person in a photograph while blurring the background, another process that's likely to require additional RAM.
Rumors suggest the smaller 4.7-inch iPhone 7 continues to feature 2GB RAM, and an iPhone 7 benchmark from earlier this week offers potential confirmation.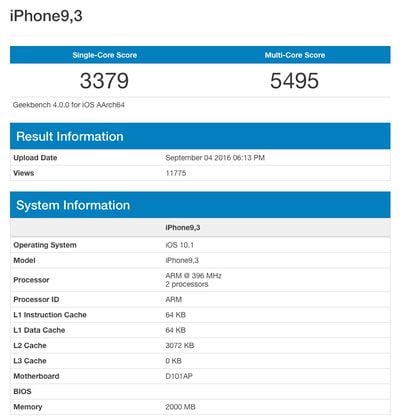 iPhone 7 benchmark


The processor data on the iPhone 7 benchmark was off, which initially called into question its legitimacy, but Geekbench doesn't yet accommodate the lower-power high-efficiency scores of the A10 Fusion chip, and Geekbench's John Poole believes it's possible there was a problem when calculating processor speed. If representative of an actual iPhone 7 device, the benchmark indicates 2GB RAM.
While the iPhone 7 also features an upgraded camera system, it does not require software processes for merging multiple images together, so higher amounts of RAM may not be necessary for optimal performance.
We won't have concrete confirmation on the amount of RAM in the iPhone 7 and the iPhone 7 Plus until launch day, when multiple sites are likely to begin teardowns to see just what's inside.