iPhone 7 Reviews: 'Terrific Phones' That Offer a 'Foundation' for the Future, But Not an Essential Upgrade
The official launch of the iPhone 7 and iPhone 7 Plus is still three days away on September 16, but the first reviews of the new smartphones have started showing up online this morning. Some of the sites have been quietly testing out the new handsets for around a week, and general impressions have been positive, despite the lack of a radical design overhaul compared to last year's iPhone 6s and 6s Plus.
The Verge offered perhaps the most balanced perspective on the iPhone 7 series, which it called "terrific phones" but also "incomplete", given that the wider color gamut, and the real potential of the Taptic Engine and the iPhone 7 Plus's dual-lens camera – which rely on software updates – won't be realized at launch.
The Verge
said non-adopters "won't actually be missing out on much" if they don't get an iPhone 7, which it described as a "transitional step to a vision of the future" and a "foundation" for how the next generation of iPhones will integrate into our lives.
The entire time I was using the iPhone 7, I felt like I had a prototype of next year's rumored drastic iPhone redesign disguised as an iPhone 6. All those bold bets on the future are legitimately exciting, but here in the present using the iPhone 7 in a case feels a lot like using a iPhone 6S with a weirder home button and more adapters.
Meanwhile, Mashable offered a more enthusiastic line of thinking for early adopters, calling both devices "worthwhile upgrades" that "inch us ever-closer to the completely sealed, moving-parts-free ideal of a smartphone slab". The review notes that both phones are "fast" and the stereo speakers "really shine" when it comes to gaming, while battery life was impressive, with the larger handset closing in on two days with moderate use.
It also put the phones through some underwater ordeals, the result of which was "pretty awesome" and offered peace of mind for those prone to dropping their phones in the toilet, but it didn't recommend going for a swim with the devices.

I had a good time placing the iPhone 7 and 7 Plus under running water and dropping them into water-filled containers and sinks. Not only did they hold up, but both phones continued to function in the drink.

Each time I tried this, the iPhone 7 and 7 Plus were unharmed. I fished them out of the water and dried them with a cloth and then continue using them. One thing you cannot do right after submerging your phone, though, is charge it. Apple recommends letting the Lightning port dry out for five hours before attempting to charge either device again.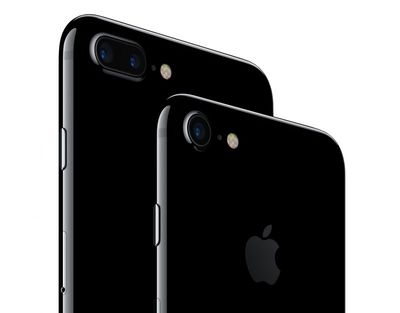 TechCrunch got hold of a glossy black iPhone 7 and remarked that it definitely showed scratches and abrasions after a weeks' use. It also mentioned that the home button's Taptic Engine feedback makes it feel as if the whole bottom half of the phone is clicking, yet it called the implementation a "flawless transition" from the physical home button that prepares users for when the button disappears entirely. It said Apple's new flagship devices are "fast, capable, and functional" and "probably the best portable cameras ever made".

This is quite simply the most sophisticated camera and image processor pairing ever seen in a smartphone or any camera period. There have been a couple of other applications of dual camera setups in phones, but the execution is crude by comparison.

The optical zoom works great, and the 56mm lens naturally adds that nice compression of facial features and slight blurring of background that a standard lens gives, especially up close.
It won't be long before Apple customers begin to receive the iPhone 7 and 7 Plus handsets themselves, as the September 16 launch date approaches. Images have emerged online of iPhone 7 shipment batches ready to leave factories in Zhengzhou, China, while some customers have already received shipping confirmation.
Other reviews: Business Insider, BuzzFeed, The Wall Street Journal, Daring Fireball, Wired, Ars Technica, The Loop, CNET.