Spec Sheet Shows iPhone 7 Plus With 256GB Storage and Lightning EarPods
A photo claiming to show a specification sheet for a 256GB-capacity iPhone 7 Plus has been circulating online today.
Originally posted on Chinese microblogging site Weibo, the image is just the latest in a series of pictures of potentially dubious authenticity given how easy it is to digitally alter them.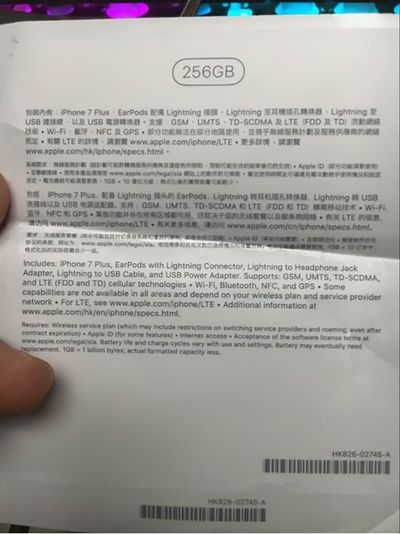 The photo in question appears to be of Hong Kong origin, and claims to show the inclusion of Lightning-equipped wired EarPods and a Lightning to 3.5mm headphone jack adapter in the box.
Those details square with the widely held belief that Apple's upcoming iPhone 7 and 7 Plus won't have a headphone jack, and will instead rely on an all-in-one Lightning port for charging, listening, and connectivity.
Yesterday, Apple added a 2TB storage tier to its iCloud service, which could be tied to the impending launch of a larger capacity handset or improvements to phone camera quality. Also yesterday, Apple was granted EAEC certificates for "AirPods" – wireless in-ear headphones which may be sold separately as accessories.
With just a week to go before Apple's September 7 media event, leaks and rumors of varying quality will undoubtedly continue to emerge at an increasing pace. Pre-orders for the new iPhones are expected to begin on September 9 with a potential launch of September 16 or September 23.