Fake 'iPhone 6 SE' Packaging Surfaces Online
A handful of photos claimed to show packaging for a device called the "iPhone 6 SE" have surfaced online today, presumably countering rumors that the next iPhone will be called the iPhone 7, but the photos have quite clearly been digitally altered.
The photos have circulated on a number of sites with varying amounts of redaction, but the highest quality, least edited versions we've found were shared by frequent Weibo leaker "KK", who notes he collected them from other users and doesn't believe Apple will use the "iPhone 6 SE" name.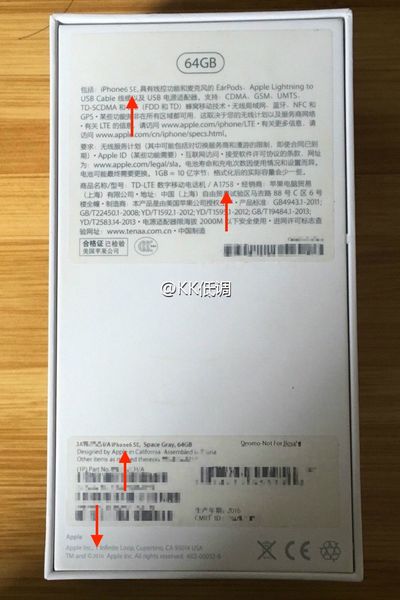 On the rear of the box shown in the photos, multiple lines of text have been Photoshopped, including both mentions of the name "iPhone6 SE," placing the six on the tail end of "iPhone" with none of Apple's traditional spacing. There are also font and background color discrepancies in the areas of the crucial text, telltale signs of manipulation.
In addition to the iPhone 6 SE name, other text lines appearing to be Photoshopped include a 2016 copyright date at the very bottom and an A1758 model number halfway through the large block of text at the top.


The other angles of the package have slightly skewed typography for the iPhone 6 SE title, further confirming the name's blend of text and logos from the iPhone 6 and iPhone SE packaging, which would be easily obtained online and used to edit a photo of an older model box.
The front of the box is also curiously omitted from the images shared today. Although the front-facing part of the iPhone 7 is expected to be largely similar to the iPhone 6 and 6s, subtle clues like glimpses of the rearranged antenna bands or a potentially flush Home Button could be harder to pull off in Photoshop. In addition, Apple will undoubtedly use a different wallpaper presentation for the new phone to differentiate the box from prior models.


As a whole, the iPhone 7 and iPhone 7 Plus are believed to be modest updates to last year's iPhone 6s and iPhone 6s Plus. Visual overhauls will be kept to a minimum and should include reduced antenna bands, a potential flush Home button, and a larger camera bump, while the most notable and controversial change may be the omission of a 3.5 mm headphone jack.


Leaks and rumors of varying quality will no doubt continue in the lead-up to Apple's rumored September 7 media event, which is now just two weeks away. Following the event, pre-orders are expected to begin on September 9 with a potential launch on September 16 or September 23.