Apple Introduces Major Retail Changes, Including New Pro-Level Positions and Credo
Apple held all-hands meetings with retail employees this weekend to introduce major new changes, including new and renamed positions, a new credo, and new store layouts, according to multiple retail sources.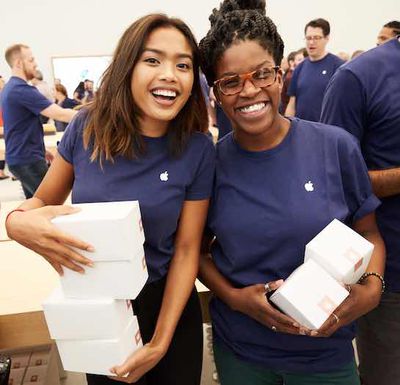 Apple is implementing three new retail positions in the United States and United Kingdom, and likely elsewhere, including two pro-level positions and an all-new Technical Expert position to complement the Genius Bar/Grove:


• Pro: A new sales position above Expert. These employees are considered the most knowledgable about Apple products and services.
• Creative Pro: A new learning position above Creative. These employees are considered the most knowledgable about Apple products and services.
• Technical Expert: An all-new customer support position in between Technical Specialist and Genius. These employees will be able to provide mobile repairs, a task previously limited to Geniuses, and troubleshooting for software and products like the Apple Watch and Apple TV. The position will help reduce Genius Bar/Grove and service wait times.
In addition to the new positions, Apple is renaming several of its current retail positions:


• Red Zone Specialist → Specialist
• Family Room Specialist → Technical Specialist
• Business Specialist → Business Expert
• Back-of-House Specialist → Operations Specialist
• Inventory Specialist → Operations Pro

Meanwhile, the Back-of-House is now called Backstage, where the Inventory and Operations teams work, and the Red Zone, which encompasses the sales floor, is now called the Product Zone. Apple's existing retail locations will use the same tables from the old Red Zone for the new Product Zone.
Apple has also updated its credo, a motto that the company encourages its retail employees to follow. The new credo:
 Enriching lives.

We are here to enrich lives.
To help dreamers become doers,
to help passion expand human potential,
to do the best work of our lives.

AT OUR BEST

We give more than we take.
From the planet,
to the person beside us.
We become a place to belong
where everyone is welcome.
Everyone.

We draw strength from our differences.
From background and perspective
to collaboration and debate.
We are open.

We redefine expectations.
First for ourselves, then for the world.
Because we're a little crazy.
Because "good enough" isn't.
Because what we do says who we are.

We find courage.
To try and to fail,
to learn and to grow,
to figure out what's next,
to imagine the unimaginable,
to do it all over again tomorrow.

AT OUR CORE

We believe our soul is our people.
People who recognize themselves
in each other.
People who shine a spotlight
only to stand outside it.
People who work to leave this world better than they found it.
People who live to enrich lives.
Last, Apple said it now has over 30 retail locations based on its new design language, including the flagship Apple Union Square. The new layout includes a combination of The Avenue, Genius Grove, The Forum, The Plaza, and The Boardroom. Apple is renovating dozens of locations with the next-generation design, and all new locations since mid 2015 have been based on the new design language.
Juli Clover contributed to this report.