Recent Samsung Patent Filing Includes Images of Apple Watch
In a recent patent filing detailing smart watch band swapping mechanisms, Samsung appears to have cut some corners and borrowed a few familiar looking images from Apple.
The South Korean company's patent application for a "Wearable Device" features several design drawings of the Apple Watch that appear to be based on Apple Watch marketing materials and images, as was discovered by Patently Apple and Business Insider.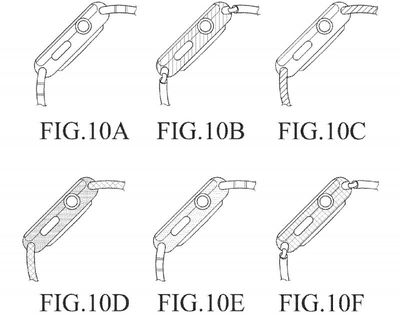 Samsung uses Apple Watch drawings alongside its own product drawings as examples of methods for attaching a band to a smart watch. The Apple Watch's lug attachment site is clearly depicted along with bands like the Classic Buckle, Modern Buckle, Milanese Loop, and Leather Loop, suggesting Samsung's product designers and engineers are drawing inspiration from Apple's wearable device.

Figures 10A to 10F and 11A to 11F are views illustrating diverse shapes, structures, and materials of a first strap portion or second strap portion in a wearable device according to am embodiment of the present disclosure.
Samsung has a long history of copying Apple designs and is often ridiculed for its tendencies to emulate Apple, so the use of Apple Watch design images for its patent examples is a curious choice.

One of Samsung's images (right) compared to a marketing image of the Apple Watch (left). Via BusinessInsider.


Apple and Samsung continue to be embroiled in a long-running lawsuit that found Samsung guilty of infringing on iPhone design patents, and Samsung has already paid Apple $548 million as a result. Just today, more than 100 designers wrote an amicus brief supporting Apple in its ongoing battle with Samsung, describing how the visual design of a product has "powerful effects on the human mind and decision making processes."