Photos Show First Functional, Powered On iPhone 7
While several photos depicting what is believed to be the iPhone 7 have surfaced in recent months, most if not all of the components have been early prototypes, design molds, or well-designed Chinese counterfeits. A new series of photos have leaked, however, that quite possibly could be the real deal.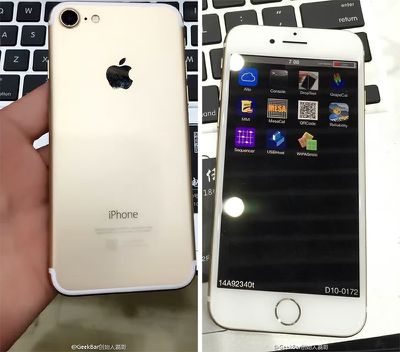 The first photos of what is claimed to be a real, fully assembled iPhone 7, shared by Chinese repair shop GeekBar on Weibo, show the smartphone in a powered on state running Apple's internal testing software called SwitchBoard. The photos were first spotted and vetted by French website NWE.
The device itself lines up with previous photos, showing no headphone jack, dual speakers, a larger rear-facing iSight camera, and repositioned antenna bands along the rear shell. The device still has a home button, but whether it is touch sensitive as rumored cannot be clearly distinguished.


Apple is widely expected to introduce the tentatively named iPhone 7 and iPhone 7 Plus next month, with noted leaker Evan Blass pointing towards U.S. retail availability on Friday, September 16. If true, Apple could begin pre-orders in first-wave launch countries one week earlier on Friday, September 9.