Phil Schiller and Craig Federighi's Interview on 'The Talk Show' Now Available
Earlier this week, Apple executives Phil Schiller and Craig Federighi appeared on a live episode of John Gruber's podcast, The Talk Show, touching on a number of topics and expanding on some of the announcements made the previous day at the Worldwide Developers Conference keynote.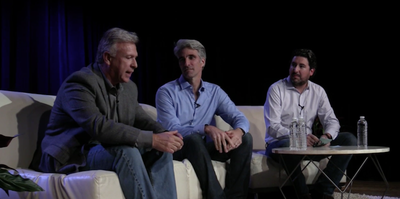 The full video and audio of the interview are now available from Daring Fireball for those interested in seeing exactly what Schiller and Federighi had to say. The executives discussed such topics as the ability to remove stock apps in iOS 10, the opening of several parts of Apple's platforms to third-party developers to allow integration into apps such as Messages and Maps, and more.
The discussion also covered Apple's expanded subscription options for app developers, including some clarification on which types of apps may not be appropriate for such a model, details on the new Photos features and how Apple is approaching privacy with them, and some thoughts on how Apple was able to make such significant improvements in the watchOS user experience.