Apple's 'Apps for Earth' Campaign Raises More Than $8M for World Wildlife Fund
Apple and the World Wildlife Fund this week announced that the recent "Apps for Earth" promotion has raised more than $8 million in proceeds to support the WWF's conservation work.
The Apps for Earth promotion, timed to take place to celebrate Earth Day, ran from April 14 to April 24 and saw dozens of apps offering special in-app purchases with 100 percent of the proceeds going directly to the World Wildlife Fund.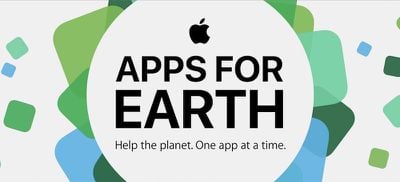 Many of the participating apps, which included titles like VSCO, Trivia Crack, Hearthstone, and Angry Birds 2, heavily promoted the fundraiser, even going so far as to change app icons and graphics during the time that it ran. Apple itself updated the theme of the App Store's front page to highlight the promotion, displaying environmentally conscious messages and themed categories.
Apple has twice partnered with the World Wildlife Fund, and in addition to the app fundraiser, Apple in 2015
began a multi-year project
with the WWF designed to protect up to 1 million acres of responsibility managed working forests in China.