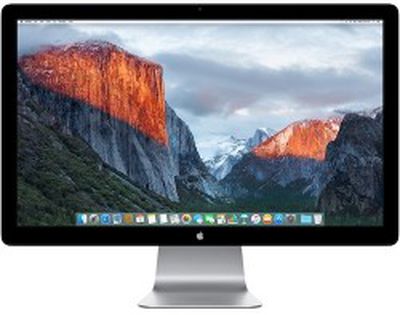 With only a few hours remaining until Apple's WWDC 2016 keynote at the Bill Graham Civic Auditorium in San Francisco, a tipster informed us that Personal Pickup is no longer available for the Thunderbolt Display on Apple's online storefront.
A quick spot check reveals that Personal Pickup has indeed been removed on the Thunderbolt Display product page in the U.S., U.K., Australia, Canada, France, Germany, Singapore, and other countries where the tool is available.
The removal of Personal Pickup, a web-based tool for checking in-store availability of Apple products, will naturally stir speculation about a long-overdue Thunderbolt Display refresh at WWDC. The standalone display has not been updated since 2011, even though Apple could have released a new model with USB 3.0, Thunderbolt 2, and a tapered iMac-style design as early as 2013.
Nowadays, the 27" Retina 5K iMac could be the basis for a corresponding 5K Thunderbolt Display, which could feature the same 5,120×2,880 pixels resolution, USB-C ports for connecting Thunderbolt 3 peripherals, and possibly an ultra-thin design resembling the latest iMacs. Apple could also release a 4K Thunderbolt Display, but supply chain considerations make that less likely.
Thunderbolt Display rumors have regained momentum since in-store availability of the display became depleted at several Apple Stores in the U.S., U.K., and Canada around two weeks ago. Speculation pointed towards a 5K Thunderbolt Display with an integrated GPU, but iMore's Rene Ritchie later said no such product will be announced at WWDC. He did not clarify if a refresh of any kind is off the table.
The removal of Personal Pickup should be treated as anecdotal evidence at best, however, especially since the tool was removed from Apple's AirPort Extreme and Time Capsule product pages as well, only to reappear some days later.
While there is always a chance that Apple could surprise developers with a crowd-pleasing Thunderbolt Display announcement, expectations should be kept low, as it is widely believed that WWDC will have few if any hardware announcements. The focus of the event will unsurprisingly be software, including iOS 10 and OS X 10.12, but wishful thinkers are undoubtedly holding out hope for "one more thing…" today.
Apple's keynote starts at 10 a.m. Pacific Time, with a live stream (spoiler free) available on Mac, PC, iPad, iPhone, iPod touch, and Apple TV. MacRumors will also have full coverage of the event, with a live blog on our front page and updates in 140 characters or less through our @MacRumorsLive account on Twitter.
(Thanks, Ted!)