Samsung Announces Gear IconX Wireless Earbuds and Gear Fit 2
Samsung today introduced the Gear IconX, a set of wireless earbuds that are similar in style to the Bragi Dash. The IconX earbuds have no wires to connect them to one another and no wire to plug them into a smartphone or other device, instead communicating wirelessly over Bluetooth.
Priced at $199.99, the IconX earbuds feature 4GB of internal storage to hold music and use hooks to securely fit into an ear. There are also built-in fitness sensors for monitoring movement and heart rate, with the data able to be synced to Samsung's S Health app, and there's a built-in voice coach feature. Touch gestures like tapping and swiping on the earbud are used for skipping tracks and changing the volume.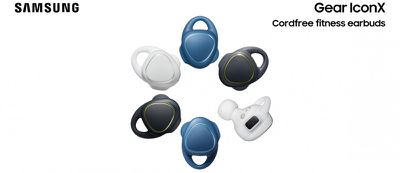 When not in use, the earbuds can be placed into a pill-shaped case which also serves as a backup battery, offering two full charges. The battery inside the IconX lasts for one and a half hours when streaming music or for three and a half hours when playing music stored on the earbuds themselves.


Samsung debuted the new earbuds at an event in New York and gave several tech sites a hands-on demo, giving us a first look at some early impressions. According to The Verge, IconX is "pretty good" at blocking outside noises, while TechCrunch points out Samsung is marketing the earbuds as a workout-only accessory given the "dismal" battery life.
Gizmodo
thought the controls could be a "little unreliable" but thought the audio quality was impressive, and
Engadget
said it took a minute to get them secured properly in the ear, but once in place, they "didn't feel like they were going anywhere."
Samsung's Gear IconX earbuds come as rumors suggest Apple is preparing to remove the headphone jack from its iPhone 7 and iPhone 7 Plus devices, set to be released this fall. There have also been rumors indicating Apple is working on its own set of wireless Bluetooth earphones that would be sold alongside the iPhone 7 as a premium accessory with many of the same features in the IconX.
Samsung plans to debut the Gear IconX in blue, black, and white in the third quarter of 2016.
The company has also announced an updated waterproof Gear Fit 2 fitness tracker with a wider 1.5-inch curved Super AMOLED display, 4GB storage, GPS, a heart rate monitor, a barometer for measuring altitude, and features for automatically detecting exercise activities. The Gear Fit 2 will be available for pre-order starting tomorrow at select retailers and available in stores on June 10.