Apple 'Working Rapidly' to Bring Apple Pay to More Countries
Apple this morning elaborated on its plans to expand Apple Pay coverage and achieve its goal to deliver the mobile payment service to "every significant market" the company is involved in.
Currently Apple Pay is available in six countries, including the U.S., Canada, the U.K., Australia, and China, with plans already underway to bring the platform to Hong Kong and Spain. Earlier this week the service expanded its presence in Singapore to support five major banks and cover over 80 percent of cards, and VP of Apple Pay Jennifer Bailey says many more rollouts are on the way.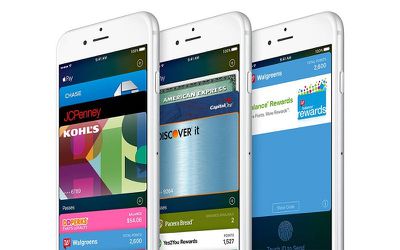 Speaking to TechCrunch, Bailey said that Apple is "working rapidly" in Asia and Europe to extend the service, stopping short of revealing which country would be next. But she did share some insight into what Apple is seeking when it assesses potential expansions.
"First, we look at the size of the market for Apple products," she said. "We also look at credit and debit card penetration, and [existing] contactless payment coverage.
"[But] when we bring Apple Pay to market even when contactless is low, it will grow — it was 4 percent in the U.S. but is now 20 percent. We also work with our network partners, where we can utilize integration with Amex and Visa, to go to market quickly."
Commenting on China, Bailey said that the service's launch in February had been "really successful" and Apple was "seeing incredible user and developer reception", with a number of prominent consumer tech companies integrating the service into their apps to enable digital payments.
In March, it was reported that the service hit three million provisions inside the country in its first three days. The launch initially covered 12 bank locations across China and that number has now risen to 19. In the U.S., Apple Pay began in October 2014 with support across six bank locations. It now covers 2,500, and the company reportedly has designs on bringing the service to ATMs in the near future.
Apple is also focused on introducing loyalty programs to other markets, having completed its first rollouts in the U.S. Similarly, Apple is working to expand support for online and in-app payments in all markets.
Back in February, leaks suggested that France, Hong Kong, and Brazil are on Apple's expansion list for this year, while CEO Tim Cook hinted this week that India could also be set to get the mobile payment service soon.