Apple Pay Expands to Singapore Through American Express Partnership, Visa Support Coming Soon
Apple today updated its website and its Apple Pay support document to note the expansion of the Apple Pay payment service to Singapore. With the addition of Singapore, Apple Pay is now available in six countries, including Canada, China, Australia, the United Kingdom, and the United States.
Apple Pay is available in Singapore through a partnership with American Express, first announced by Apple in October of 2015. By partnering with American Express, Apple has brought Apple Pay to Singapore, Canada, and Australia and will expand it to Hong Kong and Spain later this year.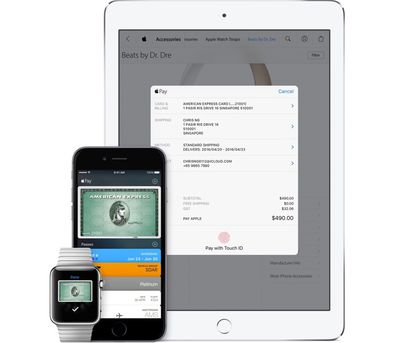 According to Apple's Singapore website, Apple Pay is currently available to American Express users in the country. American Express cardholders can add their credit cards to the Wallet app by opening the app and tapping on the "+" button or using Settings and tapping "Add Credit or Debit Card."
Apple Pay is limited to cards issued by American Express, but the website says Apple Pay support will expand to major credit and debit cards from top banks "soon." Visa is listed as a credit card partner that will support Apple Pay in Singapore in the future, as are the following banks: DBS, UOB, and Standard Chartered.
Apple Pay is available in a range of retail locations in Singapore, including Starbucks, FairPrice, StarHub, Uniqlo, TopShop, and Shaw Theaters, along with other stores that have NFC-equipped payment terminals. Additional partners like BreadTalk, Cold Storage, FoodRepublic, Giant, and more will be adding support for Apple Pay soon.
Apple Pay will also soon be available within apps, with Uber and HomeAway Asia set to be two of the first apps that will offer Apple Pay support in Singapore.
iPhone 6, 6s, 6 Plus, 6s Plus, and SE users can now use Apple Pay in retail stores, and with the Apple Watch, Apple Pay is extended to the iPhone 5, 5c, and 5s. Apple Pay within apps is available on the iPhone 6, 6s, 6 Plus, 6s Plus, SE, iPad Air 2, iPad mini 3, iPad mini 4, and both iPad Pro models.