Apple CEO Tim Cook admitted that iPhones are too expensive in India, during an interview with Indian news channel NDTV on Monday, the last day of his weeklong visit to the country (via TechCrunch).
According to a recent report from Deutsche Bank, India is among the most expensive places in the world to buy an iPhone. Prices there average 31 percent higher than the U.S., with only iPhones in Sweden, Indonesia, and Brazil proving more costly.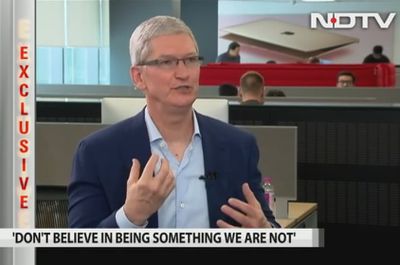 NDTV's Vikram Chandra broached the subject with Cook on air. "You've got an iPhone here which is more expensive than it is in the U.S., with less functionality than it would have in the U.S., and in a country where purchasing power is a fraction of what it is in the U.S.," Chandra said.
Cook acknowledged the disproportionate cost by suggesting that the iPhone was overpriced rather than too expensive. "The duties and the taxes and the compounding of those takes the price and it makes it very high. Our profitability is less in India, it's materially less — but still I recognize that prices are high," he said.
"We want to do things that lower that over time, to the degree that we can," Cook continued. "I want the consumer in India to be able to buy at a price that looks like the U.S. price."
Chandra's interview covered a few more topics, including how Apple saw itself investing in its Indian presence. "What we see here is talent," said Cook. "That means getting the development community moving on iOS. We're also using a lot of skills in India for maps –
the maps facility
will be several hundred million dollars worth of work."
Cook also said the company wants to bring all its existing services to India, including Apple Pay, and that if the need arose to offer something unique in the country, Apple would look at that too, although he acknowledged the possible cultural limitations: "I don't believe personally in trying to be something you're not. We are what we are. We're a California company."
The interview rounded off Tim Cook's weeklong trip to India, during which he met with Prime Minister Narendra Modi, mingled with Bollywood stars, watched a cricket game, visited temples, and attended business meetings in Mumbai.