Tim Cook Shows Up in Beijing, Reportedly Meeting with Carrier Partners
Sina.com notes [Google translation] that Apple CEO Tim Cook has been spotted in Beijing today, taking time on his trip to visit the Xidan Joy City retail store and pose for pictures with customers.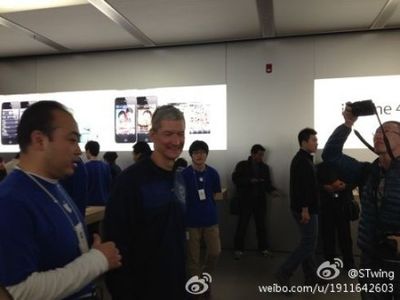 The purpose of Cook's trip to Beijing has not been confirmed, but the report suggests that he is meeting with top officials at Apple's iPhone carrier partners including China Unicom and China Telecom. The iPhone launched for the first time on China Telecom earlier this month, breaking China Unicom's exclusivity on official availability of the device.


Cook was also seen at China Mobile's headquarters last June before officially taking the reins as CEO of Apple. But China Mobile, the world's largest mobile phone carrier, has yet to begin offering the iPhone.
Update: Marketwatch reports on comments from an Apple spokeswoman sharing that Cook had "great meetings" with unnamed officials regarding Apple's plans for increased investment in China.
Cook "had great meetings with Chinese officials today. China is very important to us and we look forward to even greater investment and growth here," said Apple spokeswoman Carolyn Wu. She declined to give further details on the meetings.