Apple R&D Spending on Track to Top Record $10 Billion Amid Electric Vehicle Rumors
While much attention has been placed on Apple's first quarterly revenue decline in thirteen years, with some suggesting that the iPhone maker may push deeper into services to combat the slowdown, there is evidence to suggest that Tim Cook and company have bigger plans in store.
Apple analyst Neil Cybart of Above Avalon notes that Apple is now on track to spend a record $10 billion on research and development this year, up nearly 30 percent from 2015 and significantly more than the little over $3 billion per year it was spending on R&D just four years ago.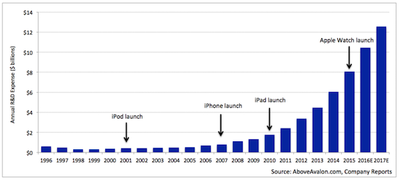 Cybart believes that the most likely explanation for Apple's increased R&D spending is that the company is looking to make a long-term pivot beyond the iPhone, which currently accounts for nearly two-thirds of the company's revenue. His predicted product of the future: the widely rumored Apple Car.
"Apple is not spending $10 billion on R&D just to come up with new Watch bands, larger iPads, or a video streaming service," he wrote. "Instead, Apple is planning on something much bigger: a pivot into the automobile industry."
Apple's R&D spending has experienced a significant uptick since mid-2014, which Cybart attributes to Apple Car development over the past few years. There were similar quarter-over-quarter spikes in spending leading up to the release of the iPhone, iPad, and Apple Watch, as illustrated in the chart below.


The analyst added that Apple has likely already spent upwards of a few billion dollars on Project Titan, the alleged internal codename for the Apple Car, with R&D spending likely to hit at least $14 billion per year by 2017 or 2018. He predicts the odds of Apple releasing an electric vehicle are at least 80 percent.
There is one very simple reason for my high degree of confidence: Project Titan is a long-term pivot. I don't consider Titan to be just another project that Apple has been tinkering around with in the lab for years like an Apple television set or Apple Pencil. Instead, Project Titan is much more about building a foundation for Apple that will literally represent the company's future.
Apple is widely rumored to be working on an electric vehicle that could launch by 2020. The bulk of research and development may be centered in the Santa Clara Valley area, near Apple's existing Cupertino headquarters, led by a team that includes former Tesla, Ford, and GM employees and other automotive experts.
Related Article: Apple R&D Reveals a Pivot Is Coming — Above Avalon