Apple Seeking 'Large Expanses of Real Estate' for Autonomous Car Project
Apple is looking to purchase "large expanses of real estate" in the San Francisco Bay Area for its much-rumored car project, codenamed Project Titan, according to The Wall Street Journal. Google parent company Alphabet and several car manufacturers, such as Tesla and Mercedes Benz, are also on the hunt for more space, according to Hudson Pacific, one of the Bay Area's largest landlords.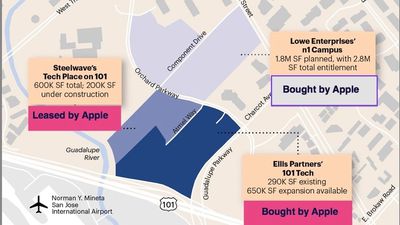 Map of Apple's newly-purchased real estate in San Jose
"We're seeing the Toyotas of the world, the Teslas of the world, BMWs, Mercedes. Ford now is out in the marketplace looking for space," [Hudson Pacific Properties CEO Victor Coleman] said on the landlord's quarterly investor call. "I haven't even mentioned the 400,000 square feet that Google's looking to take down and the 800,000 square feet that Apple's looking to take down for their autonomous cars as well."
While the size Coleman references is fairly big, car production plants tend to be even larger. Tesla's Fremont, California factory is 5.3 million square feet while Ford's Flat Rock, Michigan plant, one of its smaller factories, is 2.9 million square feet. For comparison, Apple's new headquarters is 2.8 million square feet while Google's Mountain View campus is 4.8 million square feet.
In recent months Apple has been leasing more space repeatedly for its car project in the Bay Area. In March, Apple leased a former Pepsi bottling plant in Sunnyvale, California. The Cupertino company has also leased and purchased several smaller, secret buildings likely being used to develop Apple Car technologies. In January, Apple gained approval from the San Jose city council to develop a 4.15 million-square-foot campus in the city.
The WSJ also notes that Apple is in the process of growing its Apple Car team, which had 600 employees last year. Earlier today, it was reported that Apple had hired a former Google employee with experience in electric vehicle charging.