2016 MacBook Review Roundup: SSD Performance is Much Improved, Lack of Ports and 480p Camera Are Still Negatives
When Apple announced a refreshed 12-inch Retina MacBook last week, it provided several publications with review units to get a look at the changes in the new machine. We've gathered up a range of these reviews below to highlight the general release reaction to the new 2016 MacBook.
The MacBook is identical in design to the 2015 MacBook, but it includes a faster SSD, improved Skylake processor with better graphics, longer battery life, and a new Rose Gold color option. Many of the reviews focus on these improvements while also calling out missing features that many were hoping for, including an increased number of USB-C ports, Thunderbolt 3, and an improved FaceTime camera.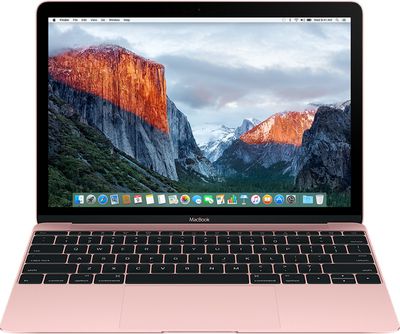 Engadget's Dana Wollman says Apple's claim of 25 percent better graphics performance and extra battery life "are indeed accurate." With the SSD in the 1.2GHz 512GB machine, Wollman saw read/write speeds of 947MB/s and 845MB/s, respectively, significantly improved over the 738.2 and 451.7MB/s speeds of the year-ago model.
In everyday use, I had no problem juggling all my usual apps: Slack, Spotify, TextEdit, Photos, Notes, Messages, Maps and Chrome, with nine pinned tabs and a handful of unpinned ones. Apps were quick to launch, and I thankfully didn't notice any of the hiccups that sometimes plague slower machines; it kept up as I hopped between pinned browser tabs, for instance, which not all laptops do. [...]

How similar is the updated MacBook to last year's model? Put it this way: I was strongly tempted to assign it the exact same score. In the end, I decided it deserved a slightly higher number as a way of acknowledging the extra hour of battery life and considerably faster disk speeds.
Ars Technica's Andrew Cunningham said the 2016 update isn't going to please people who disliked the 2015 MacBook given its single USB-C port. Those who held off from purchasing the 2015 MacBook might be interested in the 2016 model given its speed improvements, though, and with the SSD, encrypted performance is much improved. Ars Technica has a wide range of benchmarks that are worth checking out.

If you've already got a 2015 MacBook, this one is usually faster but won't run circles around it. Its CPU, GPU, and storage performance is in the neighborhood of a MacBook Air from two or three years ago. This new release is a solid upgrade for anyone with a Mac from, say, 2010 or earlier, but it's not a high-powered workstation.

If you thought you wanted a MacBook but didn't buy one because you were worried about the speed, the new model's GPU and storage in particular are improved enough that they might tip the scales.
Laptop Mag's Mark Spoonauer says the 2016 12-inch MacBook "better than its predecessor" but "still involves compromises." He highlights the improvements in the 2016 MacBook but notes that Apple didn't fix its biggest shortcomings - port availability and low-res FaceTime camera.
The 2016 MacBook is certainly an improvement over its predecessor. It's significantly faster, especially if you opt for the Core m5 model, and it lasts an hour longer on a charge, all while being extremely portable. I also continue to love the Retina display and don't really mind the flat butterfly keyboard. However, for this kind of money, I would really like to plug in a power cable and a second device sans a dongle, and I believe anything in this price range should be able to power two external monitors.
The Verge's Dieter Bohn said the new MacBook feels about 25 percent faster. He also covers the new "vibrant" Rose Gold color, which can look "either kind of bronze or incredibly pink."
Geekbench 3 pegs the speed improvements on raw processor operations at around 20 percent, but disk-write speeds using Blackmagic saw bigger improvements, as much as 80 or 90 percent faster (reading speeds look like smaller, incremental improvements). Overall, the thing feels about 25 percent faster to me. [...]

My hunch is that if you were worried that the last MacBook was too underpowered for you, the new MacBook will only assuage your concerns by, well, 25 percent or so.
Additional Reviews: CNET's Dan Ackerman, Mashable's Christina Warren, and TIME's Lisa Eadicicco.
Apple is selling the new Retina MacBook on its website, with prices that start at $1,299. Orders placed today will be delivered in approximately a week, but many retail stores around the world have the machines in stock for immediate purchase.